How to Build SaaS Applications with a Small Budget
2023-06-26
306
Currently, the SaaS market is at the peak of its popularity and continues to grow. According to preliminary forecasts, by 2035, more than half of all spending on IT services will belong to SaaS solutions. Although the market for these services is already quite large, a decision to build SaaS-Based applications can significantly improve your business.
What is SaaS applications
Using SaaS applications means that you, as an ordinary user or an organization, can use any cloud-based service on a subscription basis. That is, all you will need to access the product and its functions is the Internet. All the rest, such as technical aspects, tech support and updates, are handled by the provider of the service you are paying for.
Main advantages of SaaS solutions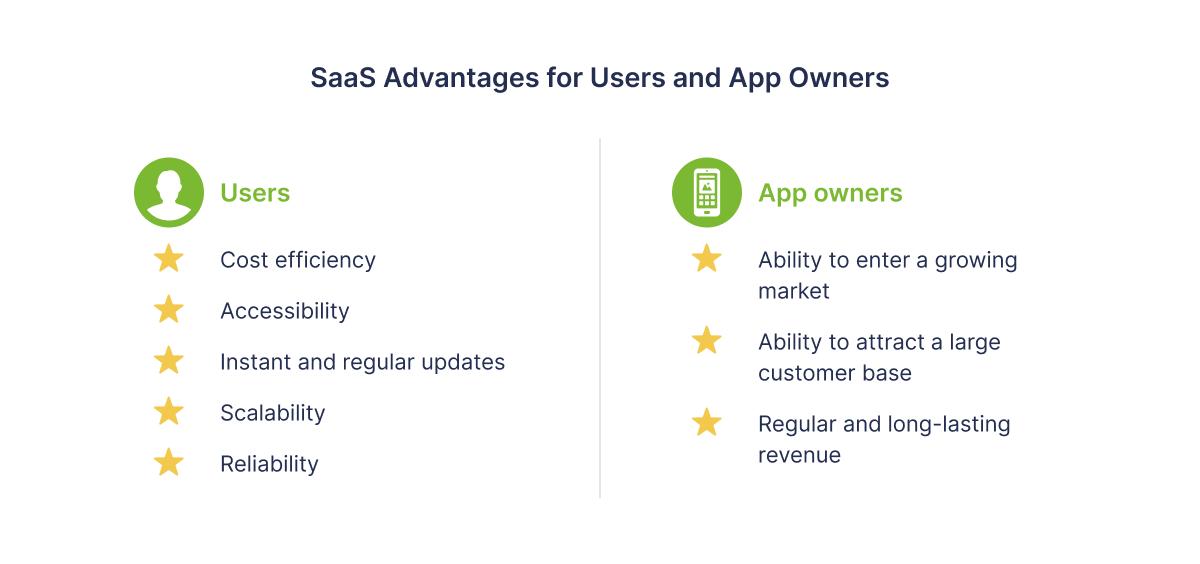 SaaS solutions are about two parties that benefit from it. So here are the main advantages of Software as a Service applications:
For users:
Cost-effective option. Before the rise of SaaS, it was commonly thought that providing your company with the software was a very costly idea. To do this, you need to buy equipment, allocate space for its placement, hire specialists who will take care of it, and much more. At the moment, all of that can be crossed out of the list of expenses and you can regularly pay a not really large amount of money to a SaaS service provider.
Ability to scale and vice versa. If you see that you need more capabilities of the SaaS application, you can simply upgrade it to a more expensive subscription. That is, you can scale the service you are provided at any time. But, another advantage of SaaS is that if the product is no longer needed, or the need has reduced, you can easily drop it or switch to a cheaper subscription plan. You will lose neither time nor money.
Availability and reliability. With the SaaS option, you'll have access to practically any functionality you need. At the same time, all your data will be protected by security protocols on the provider's servers.
Invisible updates. Unlike the purchase of a specific software product, which means buying only one version of it, SaaS solutions are completely different. When you pay for a subscription, you automatically receive all updates of the application. Moreover, the provider delivers them very discreetly, which is convenient when you work with the service all the time.
For providers:
Opportunity to be a part of a fast-growing industry. At the very beginning of our article, we already mentioned that the market share of SaaS applications, according to many forecasts, will only grow. It means that if you enter this field now, you will have a good chance for success, and the competition will not be that high.
Getting more customers. It is much more advantageous for users not to buy a product for a lot of money, but to be able to "rent" the service. That is why the demand for SaaS will only grow, and the number of users of your service will increase. This way the recognition of your product will increase and you will be able to attract more clients.
Regular and stable income. Each user of your service will make a monthly payment for the usage of your application. In other words, your income will be regular and your financial flow will be stable.
Read also: Тrends of SaaS Products for 2023
General types of Software as a Service applications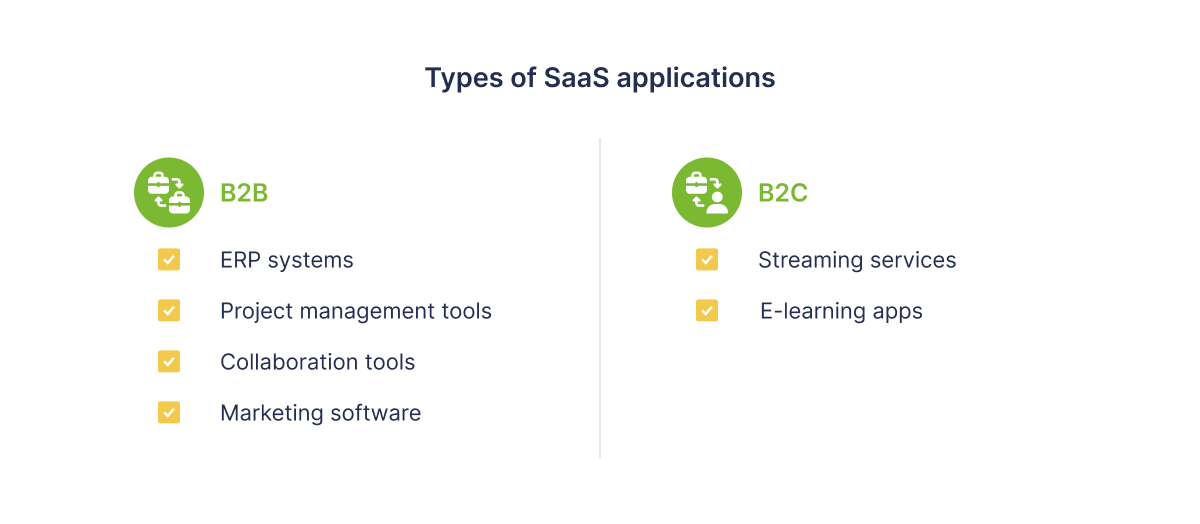 Figuratively, all SaaS applications can be divided into two main types:
 B2B. The name B2B stands for business to business. This means that a SaaS service provider selects a business or companies, regardless of their size, as its target audience. In  such a case, SaaS are large-scale applications that offer companies specific solutions to improve their operation.  
 B2C. The name B2C stands for business to consumer. This model, unlike the previous one, is aimed at a broader spectrum of people who will use the app for personal purposes. Providers of such services should focus on the universal nature of their product, as well as well-designed advertising campaigns, which can attract potential users.
How to: SaaS development with small budget
SaaS, or software as a service, is an alternative business model to traditional software licensing. With the SaaS approach to software delivery and maintenance, developers don't sell their programs with a lifetime license or wait until next year's version to release feature updates. Instead, companies market their software as a service, typically via a subscription model.
These applications are hosted in the cloud, which means they don't need to be physically installed on a user's computer. The difference between SaaS and on-premises software is best illustrated with an example.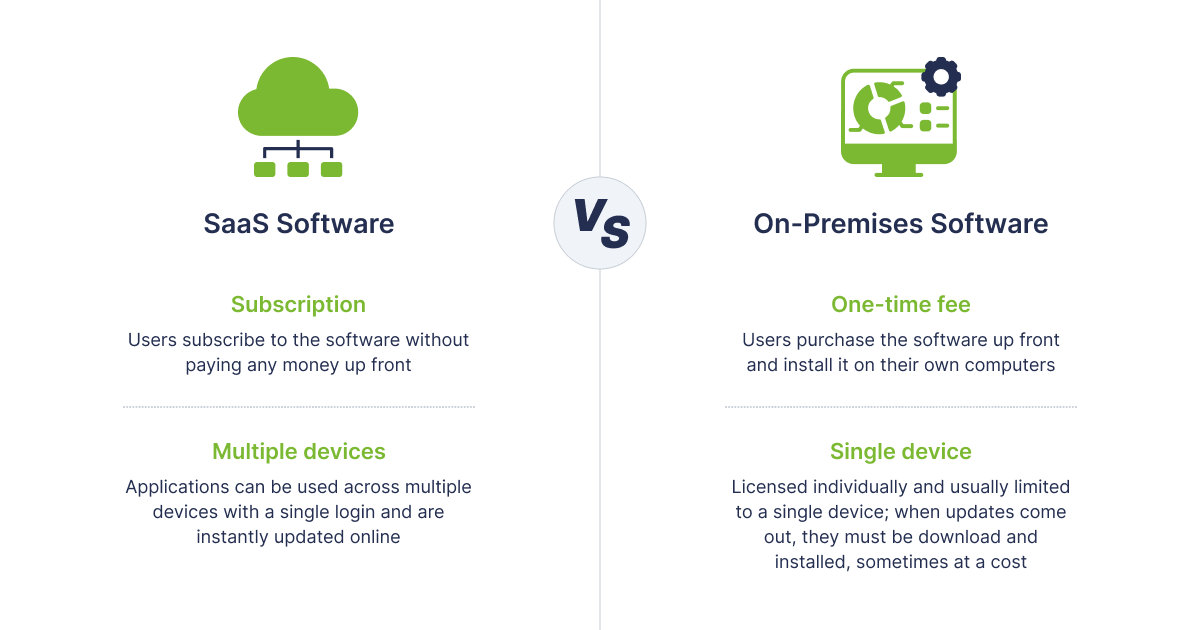 Of course the development of a custom SaaS solution cannot be cheap by default. Everything that is created from scratch and includes innovative solutions and approaches to work requires time and money investments. But if you continue reading, you will find useful tips about how to reduce software development costs without compromising the quality.
Look for a skilled development team for not much money. You don't have to start working on your project with a company whose services cost fabulous money. You can look for talented IT specialists from countries like Ukraine, India, China, and others. They can do the job for a slightly lower budget than others, but the quality will please you. 
Clearly state your requirements and always be in touch with the developers. Before you start working on any project, the best choice is to think everything over and draw up a requirements specification which will help the specialists in their work and save time. Also, if you know exactly what you want and communicate with the team at all stages of the work, you will reduce the risk of misunderstandings which can lead to extra expenses. And besides, with understanding of your wishes, the experts can think through the options of IT cost optimization for your project.
Always start by creating an MVP. Don't skip the step of testing your idea. The best method for this is to create an MVP. This way you can get to know the market better, find out if there will be demand for your product, and test it. By the way, even at this stage, you can try to implement monetization in your project, which will start to pay back the expenses for development.
Read also: Cloud Service Models SaaS, PaaS, IaaS: How They Differ
Start your project with Software Development Hub 
Looking for a reliable provider of enterprise software development services? Software Development Hub is an outsourcing company that is ready to take care of all the development stages of your project, from planning to technical support of finished products. 
Our main focus is software development services for startups. The team of experts is always aimed at quality and optimization of your costs. Under our signatures we have hundreds of successfully realized SaaS applications, which are used by millions of people. Outstanding examples of such SaaS projects are: 
Our experience will help you realize any project you like and make your business success
Discuss your project
Keeping up with evolving technology trends and practices, we create cutting-edge software solutions.
SaaS Applications development
Discuss your project
Keeping up with evolving technology trends and practices, we create cutting-edge software solutions.