Cloud Migration
Embrace the future of cloud technology. Cloud migration enables you to scale computing, storage, and other resources as needed to quickly and efficiently meet changing needs or sudden increases in demand. We develop cutting-edge cloud solutions that power innovation and drive your business forward.
Get in touch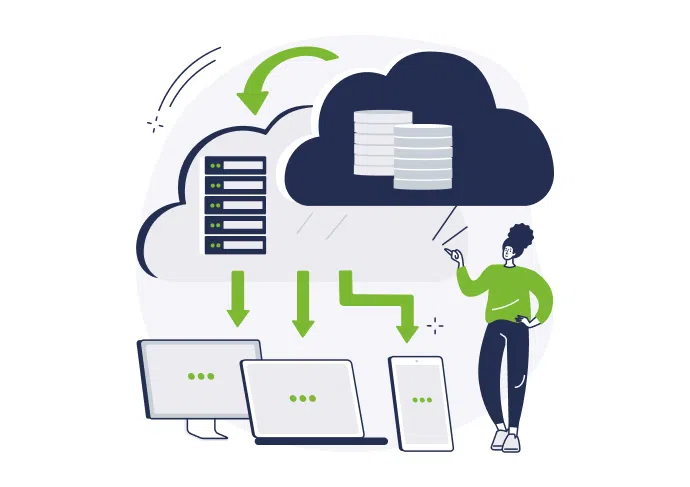 SDH provides a comprehensive range of cloud services – AWS, Google and Azure – to assist you in harnessing the full potential of your investment.
Your reliable software development partner
Are you frustrated with the hassle of managing and transferring documents scattered across various local sources?
Or perhaps you're concerned about the risk of data loss due to hard drive failures?
SDH accelerates your journey to Cloud with top-notch migration consulting and development services.
Cloud migration solutions
CLOUD AWS
Amazon Web Services is a comprehensive cloud platform encompassing a diverse range of cloud computing solutions, encompassing computing power, storage, databases, machine learning, analytics, and beyond. SDH is well-equipped to aid businesses in leveraging the full potential of AWS services. Our services encompass infrastructure configuration, cost-efficiency optimization, and robust security implementation within the AWS environment.
CLOUD GOOGLE
Google Cloud Platform provides cloud services for computing, storage, data analytics, machine learning, and cloud-native application development. SDH offers expertise in GCP to help clients leverage Google's infrastructure for data processing, AI and ML capabilities, and application hosting, enhancing their competitiveness.
CLOUD MICROSOFT
Azure is Microsoft's cloud computing platform offering services like virtual machines, databases, AI, and IoT solutions. SDH can assist organizations in adopting Azure, enabling seamless integration with Microsoft products, secure cloud migrations, and the development of cloud-native applications.
Some stand-alone services within cloud migration
Infrastructure migration to cloud
Standards we shape
In-depth expertise
Keeping abreast of evolving technology trends and practices allow us to create cutting-edge software solutions.
Tech-strong team
Our professionals onboard exchange their expertise, share corporate values and follow clients' business goals.
Bespoke solutions
Prior to transforming the client's business needs into ROI-driven custom software, we provide in-depth analysis.
Full-cycle development
Complete coverage from business analysis to end-to-end product delivery and further support.
Scalability and growth
We identify the project's growth options at the early stage and scale the software wisely throughout its development.
Direct contractor
SDH does not hire freelance contractors, you interact with the team directly to avoid extra costs and disrupted communication.
Technology stack
AWS
Amazon S3, Redshift, DynamoDB, Amazon RDS, DocumentDB, Amplify, Lambda, Amazon EC2, Elasticache
Azure
Azure Datalake, Blob Storage, CosmosDB, SQL Database, Synapse Analytics
Google Cloud Platform
Google Cloud SQL, Google Cloud Datastore
Industries we serve
We guide businesses to the industry's top accepting the competition challenges.
Healthcare
GIS
Travel
Education
Logistics
Accounting
E-commerce
Field Services
Cooperation models
Dedicated Team
This model guarantees a fixed budget for your software development project, regardless of time and expense. The main advantage of a fixed-price model is that it allows you to plan and set an exact budget for your project.
160 Hours of Part & Full Time
Predictable Monthly Budget
Fixed Cost & Flex Scope
This model guarantees a fixed budget for your software development project, regardless of time and expense. The main advantage of a fixed-price model is that it allows you to plan and set an exact budget for your project.
Predefined Budget & Terms
Time & Materials
If your project is undefined and needs ongoing work, you can ask for hourly engagement. It is also known as a pay-as-you-go hour-wise rolling contract.
Requirement-Based Working Hours
Pay Only for Measurable Work
FAQ
Cloud migration is the process of moving digital assets like data, applications, and workloads from on-premises servers or legacy infrastructure to cloud-based platforms like AWS, Azure, or Google Cloud.
The cost of migrating to the cloud can vary widely depending on the scale, complexity, and specific requirements of your migration project. It's recommended to consult with our experts to get a cost estimate tailored to your needs.
The duration of cloud migration depends on various factors, including the size and complexity of your systems, the volume of data, and the chosen cloud platform. Simple migrations might take a few weeks, while more complex ones could extend to several months. Our team will provide a more accurate timeline after assessing your project.
Need a project estimate?
Drop us a line, and we provide you with a qualified consultation.