API Development
Transform the way your applications interact. SDH is your trusted partner for API development, offering comprehensive services that cater to various industries.
Get in touch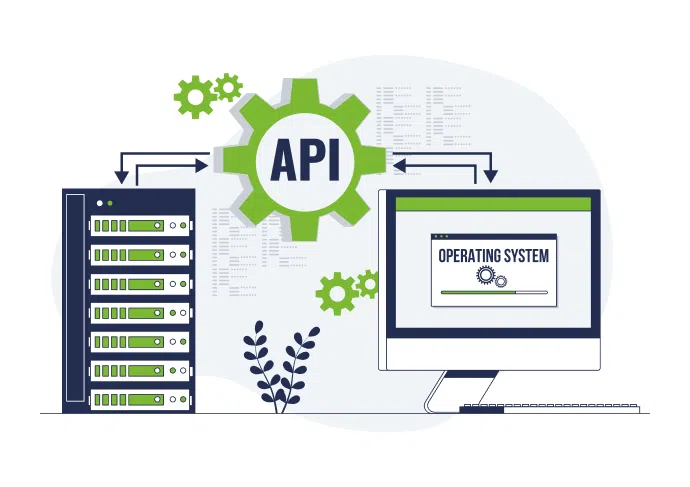 Partnering with SDH allows you to develop APIs that empower your business and increase your digital capabilities.
Your reliable software development partner
Are you interested in eliminating manual tasks, automating data transfer, and streamline processes flawlessly?
Would you like to stay ahead of the competition by expanding your digital ecosystem through custom API development?
SDH has the knowledge to provide app integration and development services that link your apps, third-party services, and websites via standard or custom APIs.
API INTEGRATION
We offer customized API integrations for the complete lifecycle of your APIs. Our SDH API developers have the expertise to fulfill various business requirements using both open-source and third-party APIs.
CUSTOM API DEVELOPMENT
Take advantage of our custom API development services to create solutions that precisely match your requirements. At SDH, we use thorough analysis and a customer-centric approach to build APIs from the ground up to ensure they perfectly match your business needs. This allows you to create a fully customized experience for your users and stakeholders.
MOBILE API DEVELOPMENT
SDH specializes in developing APIs that not only strengthen but also enhance the innovativeness of mobile applications. Mobile API development allows users to easily process payments, perform complex data analysis, schedule appointments, access geolocation services, etc. Our SDH team develops APIs for Android, iOS or cross-platform applications.
WEB API DEVELOPMENT
SDH team offers a wide range of web API development services including RESTful APIs, JSON APIs, SOAP APIs, etc., which enable the creation of robust and scalable APIs that enable seamless interaction of web applications with external software.
API DOCUMENTATION
API documentation is a guide on how to integrate and work with an API. We provide API documentation in Swagger, including description of requests, responses, error messages, and other essential details.
API CONSULTING SERVICES
SDH assists you throughout API development journey, helping you in strategy development, design, API versioning, and more.
Standards we shape
In-depth expertise
Keeping abreast of evolving technology trends and practices allow us to create cutting-edge software solutions.
Tech-strong team
Our professionals onboard exchange their expertise, share corporate values and follow clients' business goals.
Bespoke solutions
Prior to transforming the client's business needs into ROI-driven custom software, we provide in-depth analysis.
Full-cycle development
Complete coverage from business analysis to end-to-end product delivery and further support.
Scalability and growth
We identify the project's growth options at the early stage and scale the software wisely throughout its development.
Direct contractor
SDH does not hire freelance contractors, you interact with the team directly to avoid extra costs and disrupted communication.
Technology stack
Backend
Python, Django, AioHttp, FastApi
Frontend
Javascript, Typescript, ReactJS, VueJs
Mobile
Flutter, Java, Kotlin, Swift, Objective-C
Databases
Postgresql, MongoDB, RabbitMQ, Kafka
Infrastructure
AWS, Terraform, Docker, Jenkins, Linux
Industries we serve
We guide businesses to the industry's top accepting the competition challenges.
Healthcare
GIS
Travel
Education
Logistics
Accounting
E-commerce
Field Services
Cooperation models
Dedicated Team
This model guarantees a fixed budget for your software development project, regardless of time and expense. The main advantage of a fixed-price model is that it allows you to plan and set an exact budget for your project.
160 Hours of Part & Full Time
Predictable Monthly Budget
Fixed Cost & Flex Scope
This model guarantees a fixed budget for your software development project, regardless of time and expense. The main advantage of a fixed-price model is that it allows you to plan and set an exact budget for your project.
Predefined Budget & Terms
Time & Materials
If your project is undefined and needs ongoing work, you can ask for hourly engagement. It is also known as a pay-as-you-go hour-wise rolling contract.
Requirement-Based Working Hours
Pay Only for Measurable Work
FAQ
An API is a set of rules and protocols that allows different software applications to communicate with each other. It defines the methods and data formats that applications can use to request and exchange information.
As different projects have different levels of requirements, the cost of API development varies depending on the requirements. The composition of the team and the duration of development depends on it. Our team first examines your requirements and offers a suitable proposal for a fully customized API development, which will help you make the most informed decision.
We offer various API development services, including custom API development, third-party API integration, and API documentation. Our team can help you leverage APIs to achieve your unique business objectives.
Need a project estimate?
Drop us a line, and we provide you with a qualified consultation.