Тrends of SaaS Products for 2023
The acronym SaaS literally means "Software as a Service". The concept of SaaS has spread immensely in the field of cloud services. Unlike the traditional model of selling software with the purchase of a license and installation of software on hardware, SaaS offers a qualitatively different approach. For a subscription fee, the user is provided via login and password, which allows access to software with a full range of functions and tools.
The choice of SaaS as the basis for technical support allows you to reduce the cost of purchasing software, which is especially important for small and medium-sized enterprises. Another advantage of the solution is a wider range of opportunities and greater user mobility. The absence of strings attached to geography or time has led to the transition of office work to remote mode, which in the context of the 2020 pandemic, has become a necessity for businesses worldwide.
Due to expanding of SaaS use, this article is devoted to SaaS trends in 2023 that promise to be in demand.
Industries that use SaaS
The SaaS industry is growing at an incredible pace. In this regard, in the coming years, it is quite reasonable to expect the creation of new services that will solve business problems and become a platform for further technological development. The scope of SaaS is not limited to just a few industries. DiS statistics show that more than 100 players are SaaS providers in the European market. About the same number of companies provide collaboration apps. SaaS applications have found widespread use in the online auction, mobile commerce, e-banking, and online shopping industries. These are, in particular, software for accounting, CRM, CMS, HR, tools for office work, graphic editors, etc. The Sustainability, Healthcare, and Remote Communications industries are the most promising in the spotlight of global challenges.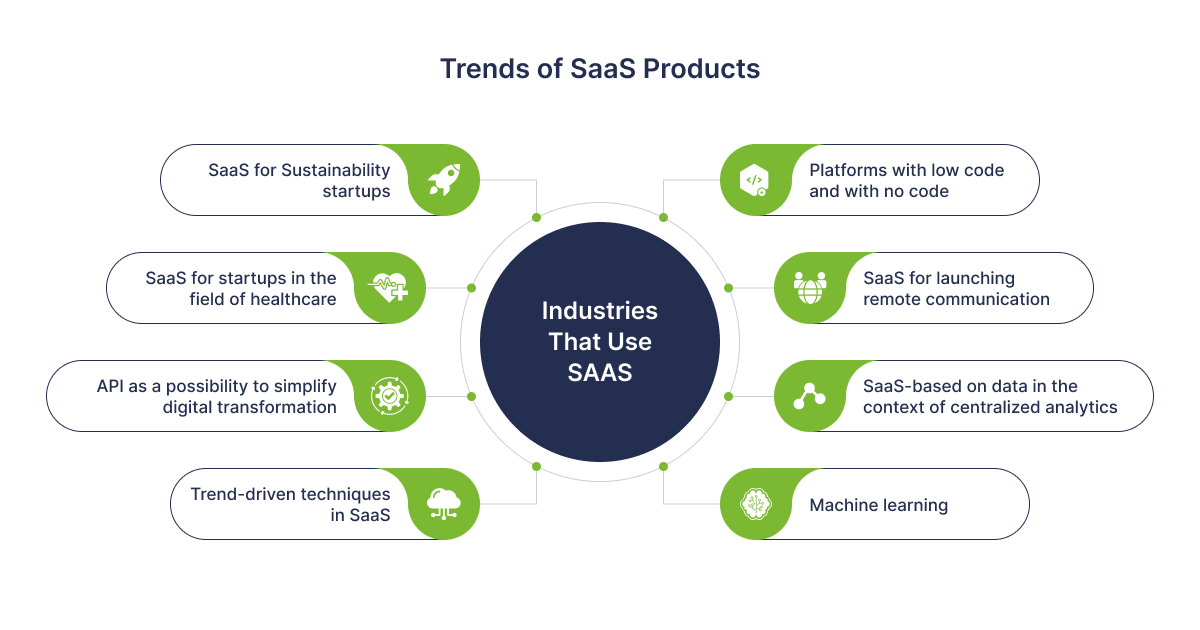 SaaS for Sustainability startups
The importance and popularity of GreenTech are only growing. This market segment is responsible for the development of vital technologies that enable climate and environmental protection strategies to be driven. A bright example of a startup in the field of climate technology is a London-based Altruistiq project, which raised capital of more than 17.6 million euros. The startup model is to reduce carbon emissions. The qualitative difference between Altruistiq and its competitors is not only in the initiative to reduce emissions: the decision directly affects the work of other companies, encouraging them to change to reduce environmental damage. 
Sustainability is considered to be the biggest data problem in the world. If there is no accuracy, transparency, and quality of information, business decisions can misinform users, which affects investments and the correctness of teamwork. 
SaaS for startups in the field of healthcare
SaaS is used as a model for healthcare IT solutions. Licensed pre-paid health software has numerous advantages. Such solutions are cost-effective and guarantee the security and confidentiality of data. The software is easy to scale and quick to update in real-time. The health care program provides users with greater access to the product. 
What tasks does SaaS solve for healthcare? These are, in particular, software for improved collection of medical files by healthcare providers, online medical care planning (search for doctors in the nearest regions, viewing reviews and making an appointment), a platform for online communication between therapists and patients, etc. 
SaaS for launching remote communication
Remote communication is another SaaS industry that has been growing rapidly in recent years. Communication-based software solutions like Slack or Zoom have gained unprecedented popularity, pushing away the once indispensable methods of communication via email, phone, and even face-to-face meetings, messaging, etc.
Integrating SaaS into a provider's platform, such as Google Drive, makes it possible to discuss the project, exchange opinions, etc. Improved communication is facilitated by activating automatic notifications about changes, etc.
Trend-driven techniques in SaaS
The development of SaaS made it possible to forget about the need to invest in local infrastructure for using the software. Now tools for business intelligence, management, and automation can be moved beyond the technical support of the enterprise. Below, you will find a closer look at SaaS trends for 2023. 
API as a possibility to simplify digital transformation
The 2020 pandemic was the impetus for changing market conditions, which actualized a new challenge - the need for digital transformation. A reusable service package delivery model has proven to be vital for businesses. 
Thus, a company's computer systems contain huge amounts of data, which, in further use, have to be repurposed or combined with libraries from other enterprises. The API solves this problem by mixing and integrating digital assets. 
Platforms with low code and with no code
The lack of engineers among large, medium, and small companies and the existing budget constraints on SaaS solutions have led to the popularity of platforms with low code or no code. Such solutions are used for rapid deployment of programs. As a result, the instant launch of the product on the market, prompt profit.
Due to these trends, an increased demand for tools with low or no code is expected, as well as the emergence of hybrid teams of business users and professional developers using the projects described above. The market for low-code projects is expected to grow to $187 billion by 2030 (compared to just over $10 billion in 2019). 
SaaS-based on data in the context of centralized analytics
Accelerating digital transformation is contributing greatly to businesses' active use of massive data. This is necessary for accelerating the performance of the enterprise and understanding customers and users. As a result, increased investment in innovative business intelligence solutions is expected. A bright example is a powerful Amazon QuickSight platform for business intelligence. 
The streaming analytics market is projected to grow and reach $99 billion by 2028, compared with $9.7 billion in 2020. What are the benefits of data analysis? Clients get access to panels in any geo-point, regardless of the time of day. 
Read also: Cloud service models SaaS, PaaS, IaaS: how they differ
Machine learning
Like artificial intelligence, machine learning will peak in the coming year. SaaS software in this segment is being improved, which positively affects the efficiency of business operations.
ML solution providers offer features for data preprocessing, facial recognition, data visualization, non-verbal gesture processing, predictive and predictive analytics, and deep learning. The calculation is made in the providers' data centers. As a result, ML will become an integral component of any AI-powered SaaS solution. 
SaaS product development remains a promising direction, and the demand for solutions in specific industries will only grow in the coming years - not only among large companies but also among medium and small enterprises. 
Categories
Share
Need a project estimate?
Drop us a line, and we provide you with a qualified consultation.