Healthcare App Development
SDH is a direct provider of custom health and medical software development services. We're a proven expert in creating software for optimizing workflow in healthcare organizations. Digital Health (EHR/EMR, MIS, HIS, IoMT, eRx, RPM, etc.) software development is our key expertise. Our mission is to be a dedicated tech partner in implementing modern technologies in medical processes.
Get in touch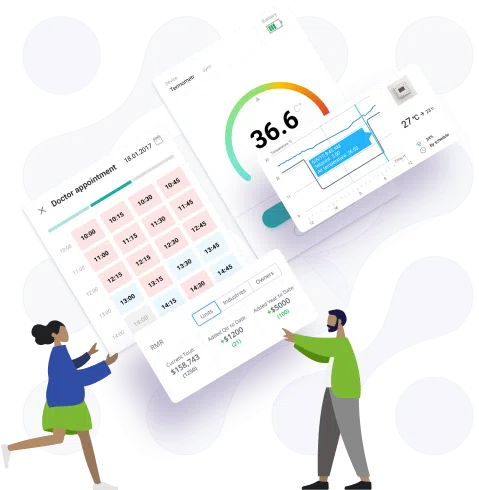 More than 9M patient users and 2M healthcare professionals use medical software products developed by SDH's team. With experience in delivering healthcare projects nationwide, we offer comprehensive software development services and IT consulting best suited to help you grow in the competitive world of healthcare.
Your reliable software development partner
Hire a dedicated team for the healthcare project
Software Development Hub creates digital health solutions that solve the client's business goals. Optimize workflows in unified interfaces, connecting with any disparate system to reduce the cost of maintaining complex interfaces.
Standards we shape
In-depth expertise
Keeping abreast of evolving technology trends and practices allow us to create cutting-edge software solutions.
Tech-strong team
Our professionals onboard exchange their expertise, share corporate values and follow clients' business goals.
Bespoke solutions
Prior to transforming the client's business needs into ROI-driven custom software, we provide in-depth analysis.
Full-cycle development
Complete coverage from business analysis to end-to-end product delivery and further support.
Scalability and growth
We identify the project's growth options at the early stage and scale the software wisely throughout its development.
Direct contractor
SDH does not hire freelance contractors, you interact with the team directly to avoid extra costs and disrupted communication.
Our technology stack
Software Development Hub uses robust backend and frontend technologies to set a fast server response and loading time for your solution. We also ensure that your custom medical software is compliance-friendly with regulatory standards such as HIPAA, HL7, CDA, CCD, QRDA, DICOM, NwHIN, and other regulatory standards for medical communication.
Industries we serve
We guide businesses to the industry's top accepting the competition challenges.
Need a project estimate?
Drop us a line, and we provide you with a qualified consultation.