Application Development for Pharmacies
The pharmaceutical industry has moved to the online sector. An increasing number of pharmacies are operating via their own websites and mobile applications, where customers can order drugs online with delivery. The scale of such changes is surprising: by 2028, the online pharmacy market is forecast to exceed $250 billion in revenue, while in 2021, the segment's turnover revenue did not exceed $70 billion.
Online drug purchases were gaining popularity until 2020: it was fast and convenient. With the global pandemic, the service has become much in demand for obvious reasons. Therefore, the creation of an online application for a pharmacy is not a privilege, but a reality. Below, we will talk about the main functions of the mobile program, the possibilities of developing applications for pharmacies, and the benefits for the owner of a pharmaceutical business.
Source: Statista
Revenue in the Online Pharmacy segment is projected to reach US$5.66bn in 2023.
Revenue is expected to show an annual growth rate (CAGR 2023-2027) of 10.98%, resulting in a projected market volume of US$8.58bn by 2027.
User penetration will be 32.71% in 2023 and is expected to hit 36.85% by 2027.
The average revenue per user (ARPU) is expected to amount to US$51.35.
In global comparison, most revenue will be generated in China (US$8,447.00m in 2023).
Types of pharmacy applications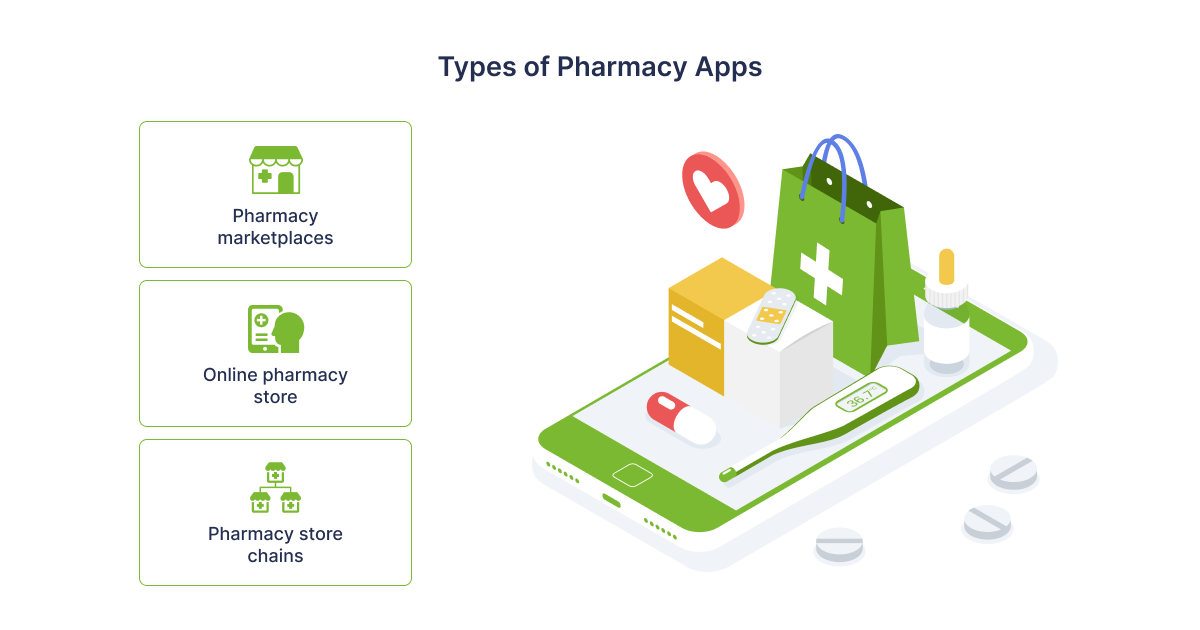 In fact, a pharmacy application is a digitalized pharmacy: here, users have access to the functions of ordering medicines, and the ability to purchase and deliver items in the shortest possible time. The principle of the program is similar to digital services for buying food in supermarket chains: you select the desired category, choose the name and read the description, analyze the cost of the drug, pay for it on the website, and monitor delivery to your address.
Depending on the business model used, the following types of pharmacy applications are distinguished:
Marketplaces. Several pharmacies are registered on the application platform, one of which is selected by the user to place an order. The marketplace is optimal for companies with a small budget that want to make themselves known in the market: this way you do not need to pay for the development of your own application and you can save money by declaring yourself;
Online pharmacy stores order, as a rule, well-known pharmacy brands. Features and capabilities may vary;
Pharmacy chains are presented on a platform that manages several physical branches of the pharmacy chain.
Read also: ERP System for Dental Practice Management: Cost and Features
What are the benefits of pharmacy applications?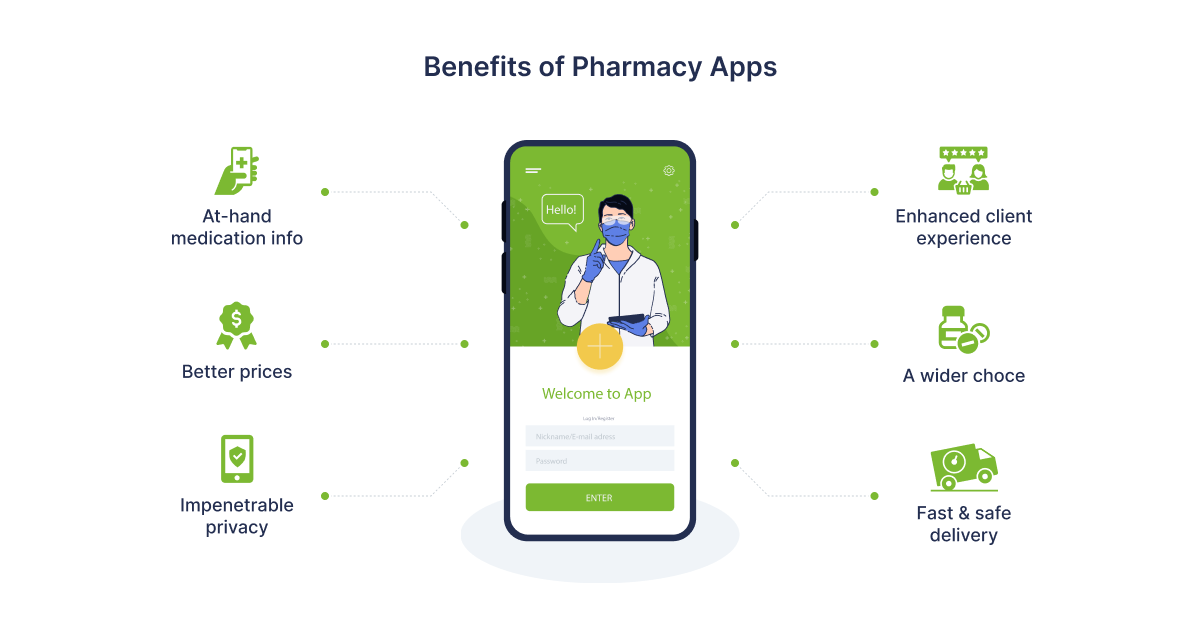 Buying medicines through an online application has a lot of advantages:
Receipt of medicines by electronic prescription from a doctor;
Delivery speed and safety for the client, which is especially important in a pandemic and high risk of infection;
For many clients, the ability to order medicines online is about maintaining confidentiality and protecting personal information about themselves as a patient;
A much larger selection of medicines, especially when ordering on the marketplace or in a network of pharmacies;
Better prices, the ability to compare costs, find discounts on drugs, and save on the purchase of drugs;
Convenient familiarization with the composition and method of application of drugs. Instructions on the use, dosage, and contraindications of drugs are always at hand in electronic form.
The benefits for the buyer are obvious. But what opportunities does the customer of a pharmacy application get by expanding the range of services, for example, by delivering medicines to end customers?
The quality of customer service improves. By providing your audience with additional tools for online ordering and secure delivery, you are contributing to the comfort and well-being of the client, which they will definitely appreciate.
Expansion of tools for business promotion. The introduction of a pharmacy application on the market is the door to the world of digital marketing, which means new opportunities for business scaling. In an environment where the number of smartphone users is growing, such advertising for the pharmacy business will bring much greater effect than traditional advertising methods.
If you develop a marketing campaign correctly, you will be able to introduce yourself to a larger number of potential customers, which will convert into more orders and sales, and revenue growth.
An application with a set of useful features and user support will allow you to gain a foothold in the pharmacy industry and even strengthen them.
Distribution of the application among customers is an increase in recognition and customer loyalty to your brand.
Read also: Predictive Medicine with IoT Wearables
Electronic pharmacy application: useful features
Determining the key features of your application is an important development stage, which largely ensures the success of the project. What features would you like to include in the base set?
For clients:
Login Registration. It is important that it is easy for the client to log in and register;
Profile with the ability to change and save information about the user;
Recipes;
Search for medicines by categories, places, etc.;
Information about medicines, including dosage, indications, contraindications, method of administration, price, etc.;
Location monitoring maps;
Product order – confirmation or cancellation;
Payment with several ways to complete the task;
Notifications and reminders, for example, about the need to refill drugs.
It is important for a pharmacist to place an order quickly and accurately in order to ensure the effective functioning of the application:
Order management - receiving requests from buyers, confirmation or refusal;
Warehouse management - up-to-date data on all available positions;
Price management - the ability to change the cost of drugs;
Payments - Receive and track payments.
For couriers:
Courier profile with data on completed orders, etc.;
order details;
Navigation to find the best route to the client;
Delivery management allows you to inform the customer.
For an administrator:
Access to user information;
Analytics with the ability to track orders and deliveries;
Marketing - tools for promoting a pharmacy application.
Pharmacy software development company
The Software Development Hub company is ready to create an application for the pharmacy business by implementing the customer's concept. Our team will develop a product with which you can gain a foothold in a competitive environment and scale your business, gaining customer loyalty.
Our portfolio includes medical information systems, e-Prescription systems, applications for tracking medicines with a QR scanner, medical ERP systems, etc.
With experience of delivering large digital healthcare products, we have unique domain expertise and know exactly how to build a scalable and flexible pharmacy solution.
Software Development Hub has extensive experience in creating web applications and mobile applications for healthcare businesses. When working on a project, our team takes into account the business challenges the client faces and offers safe, efficient solutions to automate processes and scale your operations while reducing costs.
Categories
pharmacies
Application Development
healthcare
Share
Need a project estimate?
Drop us a line, and we provide you with a qualified consultation.