Must-Have Software Project Documentation
2023-06-21
381
If you want to start working on any project that is important to you, it is best to approach this issue carefully. In order to ensure that the final product meets expectations and that the development process is not confusing, you should think about technical documentation beforehand. Any project manager will tell you that well-organized processes are the result of proper documentation. It happens that while working on a project, the development team may change, or some old information or notes may need to be found. In such cases real chaos starts, because none of the employees remember anything exactly. So, if you think about whether this seemingly inconspicuous part of the project is worth the time and money, the answer is, of course it is!
What is project documentation and what is its main role?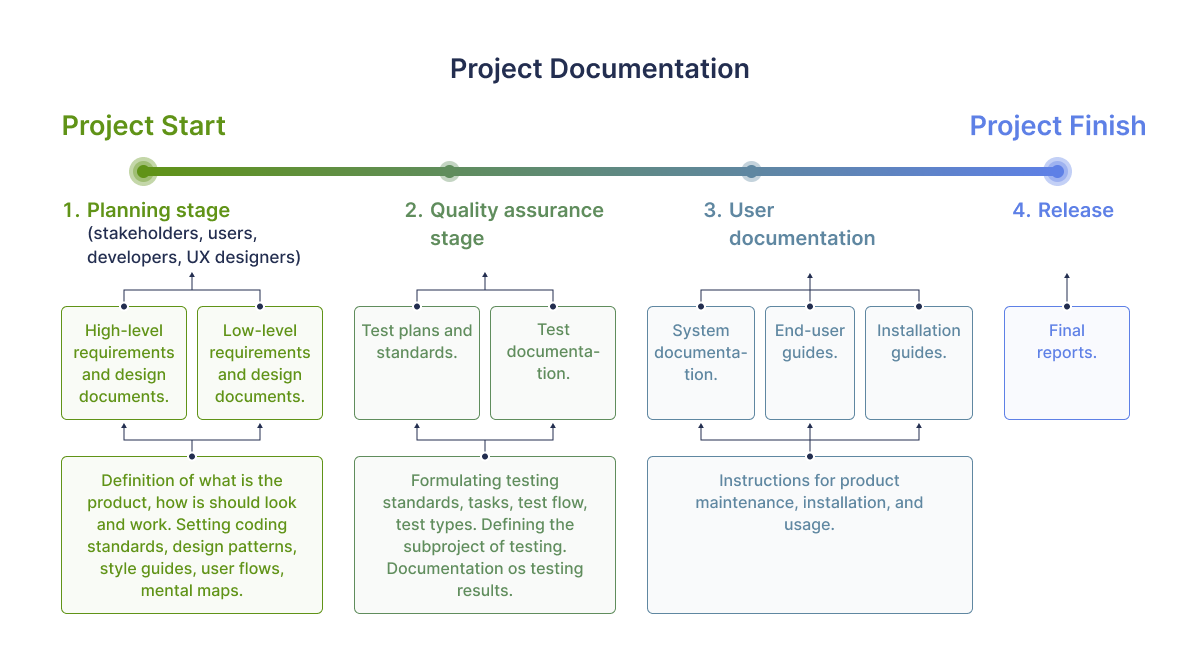 The concept of project documentation includes documents in which there is information about absolutely all the details of the project. The maintenance of such documentation begins at the earliest stages, or more precisely, at the stage of preparation for the start of the process. 
At the very beginning of the work, the team gathers at a meeting and discusses the concept of the new product, as well as what tasks it should solve. All these general ideas are documented so that everyone has access to information about the concept and the ultimate goal of the project.
In the further stages of the project, documentation usually includes information about clear product requirements, a budget, a work plan and deadlines. It is important that absolutely everyone who takes part in the project should have access to the documentation, as well as, be able to document everything. In this way, you can get the following benefits:
control all the processes,
increase the efficiency of work on the project,
avoid misunderstandings between team members,
improve the quality of your product,
have exact information about deadlines.
In the case of changes in the team or the appointment of new employees, they will also be able to read all the details of the project and quickly become familiar with it.
Types of project documentation
Of course, it is impossible to say that there is a certain list of documents that is suitable for absolutely all projects. For example, for more global and serious developments you will need more documentation. In addition, the documentation will be in a more complex version. But, if you have plans to work on a small project, then you will need less documentation for it.
Basically, these general types of documents are essencial for every project:
Documents defining the main purpose and concept of the project:
Project proposal. This document contains information about the main idea and purpose of the project. With it, each employee should get a full picture of what problems the project should eventually solve.
Project charter. A critical document that describes all the parties involved in the project and who is responsible for certain aspects of the process.
Project scope statement. Details the nature of the overall project and its specific goals. It also has information about the intended end result and a precise measure of its success.
Documents in which all the plans for the project are spelled out: 
Project plan. As you can understand from the name, these documents are used to ensure that everyone has a clear idea of what stages the project contains and what needs to be done at each of them. This document is also useful for managers because it helps them to control all the processes of work.

Risk management plan. It describes all the possible risks of the project and how to react to them. Also, all possible losses in case of malfunction may be described there.

Project communication plan. This plan outlines the manner and intervals of communication between the participants during the project process. This may include information about the timing of reports and other similar things.
Project budget and financial plan. In the budget documentation, you will find all the information about how much money the company is willing to allocate for the project as a whole and for each phase of it in particular.
Documents that contain a description of the entire process and stages of work:
Projects tasks / activities. Usually in these documents you can find information about which employees perform a certain task. And also, from it you will be able to see if it is necessary to hire new employees.
Project schedule / milestones. Typically, here is a summary of all the deadlines for each stage of a project.
Project team documentation. This is all kinds of detailed technical documentations which are created by the staff in the process of fulfilling the tasks.
Reporting documentation which helps to summarize the results (usually at the end of the project).
Project retrospective / Procedures and guidelines. Documentation that allows analyzing the whole project, its positive sides as well as shortcomings in order to improve it in the future.
Project report. A final report on the work done which provides information about whether the final product meets the initial goal.

Read also: Documentation for Software Startups: Types & Examples
Why do you need project documentation software?
A tool like your project documentation software can be a really convenient and effective element for your work. By using project documentation software, you protect your team from a lot of inconvenience and unnecessary work in searching for the required information. Instead, you get the following benefits:
Everything in one place.
Your project documentation won't be scattered in folders on each employee's computer. All documentation will be collected in one place and everyone will have access to it.
Easy Collaboration.
Using the program for project documentation you can communicate and work with other team members in real time and discuss workflow as well as all uncertainties.
Process automation and templates.
With the help of artificial intelligence, project documentation software can help you compose documentation. In addition, there are often templates inside such applications that make the work of maintaining records easier.
Of course, choosing the right project documentation software for your organization can be a daunting task. At the moment, the market is ready to offer you many different options. But, if your organization has specific needs and requirements, it is better to consider the creation of a custom solution. This way you can build the most convenient system for working with documentation, which will make the management of your projects even more efficient.
Read also: Marketing Documentation for IT Projects
Create a custom product with Software Development Hub
Software Development Hub is a reliable partner in providing outsourcing software development services for startups and existing products. Our team of experts is always focused on creating a quality product that will effectively solve your specific tasks. 
If you are thinking of developing custom software you can ask us for help and project evaluation. We will assist you with market analysis and determining the relevance of development. Also, you will be able to take an active part in the development process of the solution, because good communication and adherence to your wishes are among our key priorities.
Read also: Managing Requirements Changes: Best Practice of Documentation

Our portfolio includes medical information systems, e-Prescription systems, applications for tracking medicines with a QR scanner, medical ERP systems, etc.
Discuss your project
Keeping up with evolving technology trends and practices, we create cutting-edge software solutions.
Software Project Documentation Software Documentation
Discuss your project
Keeping up with evolving technology trends and practices, we create cutting-edge software solutions.