Education App Development: Features & Costs
2022-12-20
371
Contents
The field of education has changed dramatically over the past few years. Thus, such phenomena as virtual classes have entered the everyday life of students, and the learning process itself has become possible without the involvement of a teacher. Having access to learning platforms in smartphones, students and schoolchildren have reached a new level of knowledge acquisition.
Development of educational applications is becoming more and more promising and profitable direction due to vast possibilities of online education and global challenges (pandemic, etc.). The world's largest companies are increasing their investment in e-education. The learning app market is expected to grow by $48 billion by 2024. What technologies and functions are included in the educational application, and what makes the cost and technical development stack are viewed below.
Types of educational applications
The surge of Covid-19 has brought an unprecedented boost to the online learning industry. So, in the first quarter of 2020, the number of downloads of educational applications increased by 30% compared to the same period of the previous year. However, the growth of online education was not stimulated only by measures, forced by quarantine. Many took the chance to get an education remotely, often in more comfortable conditions and flexible study schedules. 
A customer who plans to create a training program, first of all, needs to decide on its purpose. Conventionally, all applications should be divided into two main groups — for students and teachers, but several subtypes can be distinguished in each type. 
Read also: Implementing sync and video transcoding on an edtech project
Educational applications for teachers
Educational apps for teachers cover fewer types than apps for students. At the same time, the programs remain useful and make it possible to facilitate the educational process, track student progress for parents, etc. 
Applications based on gamification.
The analogy with the game makes learning process more dynamic, and fun and allows one to gain knowledge in a relaxed atmosphere. Great examples of learning apps are Kahoot and Monster Math. The first program provides the teacher with the opportunity to prepare several questions with answers, on the basis of which the game is created. The second is aimed at learning mathematics through a game scenario. 
Applications for tracking the process.
Applications such as Seesaw monitor student learning progress. With the help of the program, parents can evaluate the performance of their children, see their achievements, and students can share the results. Additio functionality, for example, includes the ability to manage grades, records, and monitor student attendance. 
Applications for storing curricula.
Cloud services are ideal for sharing educational materials with students, providing a convenient work experience for students and teachers. The Schoology app is designed to organize files, highlight important notes, and make notes. The most popular program is Classroom, where you can work with documents, and create copies and folders in Google Drive. 
Educational applications for students
When creating programs for students, developers are guided, first of all, by goals that users set for themselves. 
The learning app for learning languages is built on sequentially placed blocks with new words, educational videos, or games to master the material.
When learning languages, it is important to practice regularly and periodically test your knowledge level, as well as learn to recognize the speech of native speakers by ear, which is included in the program. 
Applications for children.
It is impossible to completely isolate a child from a tablet or smartphone. Therefore, it is more rational to direct the student's interest in a productive way and offer him/her a useful educational application. Such programs contribute to the rapid development of reading, writing, counting, etc. skills. This will increase the child's interest in learning English, for example, and will give a lot of pleasure to those who learn to read, count, recognize shapes and colors. 
Applications for online courses.
Adults also choose distance learning, guided by the need to strengthen their qualifications or interest in new areas. The most famous platform for online learning is Coursera: it contains materials on numerous courses in dozens of areas and directions, courses from leading teachers of world universities. A convenient system of filters and search facilitates user navigation. 
Exam preparation apps make the process easier for students.
The programs include tests and quizzes on school subjects, IT courses, etc. 
Understanding the work of education application
An important condition for the successful implementation of the project is the return on investment. 
Payment for the course;
payment per user/license;
subscription fee — with a free subscription, paid features, or a premium subscription option;
advertising in the program;
e-commerce tool integration — view product in the app.
Main features of educational applications
To create a useful learning app, you need to outline the product's features. What are the features and required components of the program? 
Application for students: 
registration/login;
searching;
profile of a user;
course;
payments;
menu;
pop-up notifications.
registration/login;
management of students;
courses;
tests;
pop-up notifications.
One or another key feature, an option determined by the program's scope, can be integrated into the list of options. For example, rostering integration with ClassLink or Clever.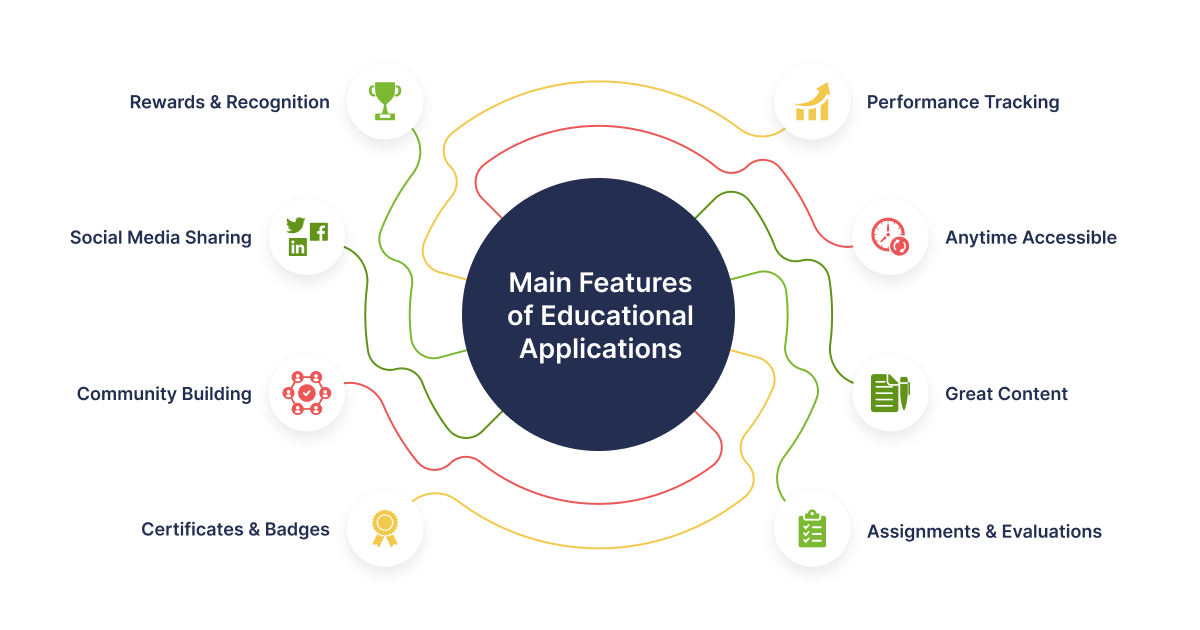 What is the cost of educational program development?
How much is the development of an educational application? The duration of each function realization determines the final price. The key components of the price are as follows:
Platform for development (native or cross-platform, or hybrid approach);
Geographical location of developers – the highest rates are those of developers from the USA or Australia, the developers team from Eastern or Central Europe would cost cheaper;
Design. Developing a customized, attractive design increases value;
Admin panel and, accordingly, time for its development;
Duration of testing to correct errors;
DevOps time, which is about 200 hours. 
The minimum cost of developing an educational application for one platform starts from $135,000. Of course, the final price depends on many factors, which should be discussed with the contractor's specialists. 
Benefits of Educational Apps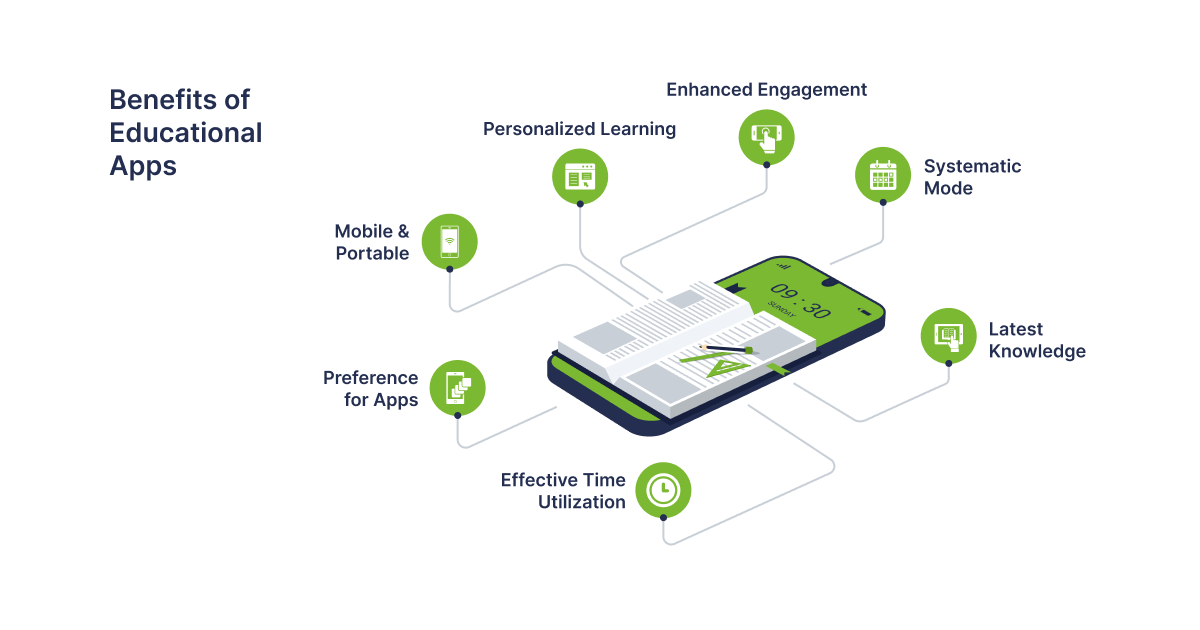 | Benefits of Educational Apps for Students | Benefits of Educational Apps for Teachers |
| --- | --- |
| Interactive learning | Enhanced teaching tools |
| Personalized learning | Increased engagement |
| Convenience | Time-saving |
| Flexibility | Real-time feedback |
| Variety | Customization |
| Gamification | Assessment tools |
| Accessibility | Organization |
| Collaboration | Analytics and insights |
| Cost-effective | Improved communication |
Read also: Top education app design trends in 2023
Software Development Hub is a software engineering company with an EdTech application and LMS development background. This expertise opens up the development of efficient solutions for partners worldwide. We are a software solution partner for startups, small and medium-sized businesses in the US, Europe, and MENA. Our main focus is SaaS solutions and end-to-end product development for the education industry.
Discuss your project
Keeping up with evolving technology trends and practices, we create cutting-edge software solutions.
education app education edtech
Contents
Discuss your project
Keeping up with evolving technology trends and practices, we create cutting-edge software solutions.