Outsourcing Development for Startups: Main Reasons & Pitfalls to Avoid
Today's world is ready to offer us many opportunities for learning and development in multiple spheres. For this reason, a lot of people are filled with great revolutionary ideas that can change the world for the better. A startup is the first step on the way to building a great company. At this initial stage, there is only a funder who comes up with some idea and a few people who support him. Such partners are also called co-founders and they own some of the company's options.
Of course, it is logical that startups don't have a big budget for development. For some people, it becomes a big problem. So, according to statistics, more than 20% of them fail in the first two years of their existence. That is why outsourcing for startups is one of the best options for successful development.
Main reasons for startups to outsource
Reduced money expenditures
Hiring outsourced workers for startups can help to save a lot of money. In this case, you do not need to spend funds on: 
salaries and bonuses for additional employees (even at times when no projects are in work)
buying new equipment
staff training
rental of larger offices, and so on.
Ability to hire top IT professionals
Really great professionals will not work for low wages. However, startup founders often don't have enough resources to hire them. Outsourcing is ideal in that case because you can find good specialists and pay them according to the work done. 
Even if you think that your small team is able to cope with the development of a new project, do not get your hopes up. Firstly, you will scatter the attention of your employees. And secondly, it's not guaranteed that people who are new to IT development will be able to create a really high-quality product that will meet all your needs and requirements.
Best conditions for your team
As we mentioned above, the concept of a startup is that all team members share the options of the new company. It means they are co-owners of the business, which motivates them to work hard for success. 
If you outsource during the development of your company, you can get a quality product and insulate yourself from people who could potentially get a share of the company. In this way, income for your team members will increase, and workers won't be stressed too much by work that could reduce enthusiasm.
Read also: IT Outsourcing vs. Outstaffing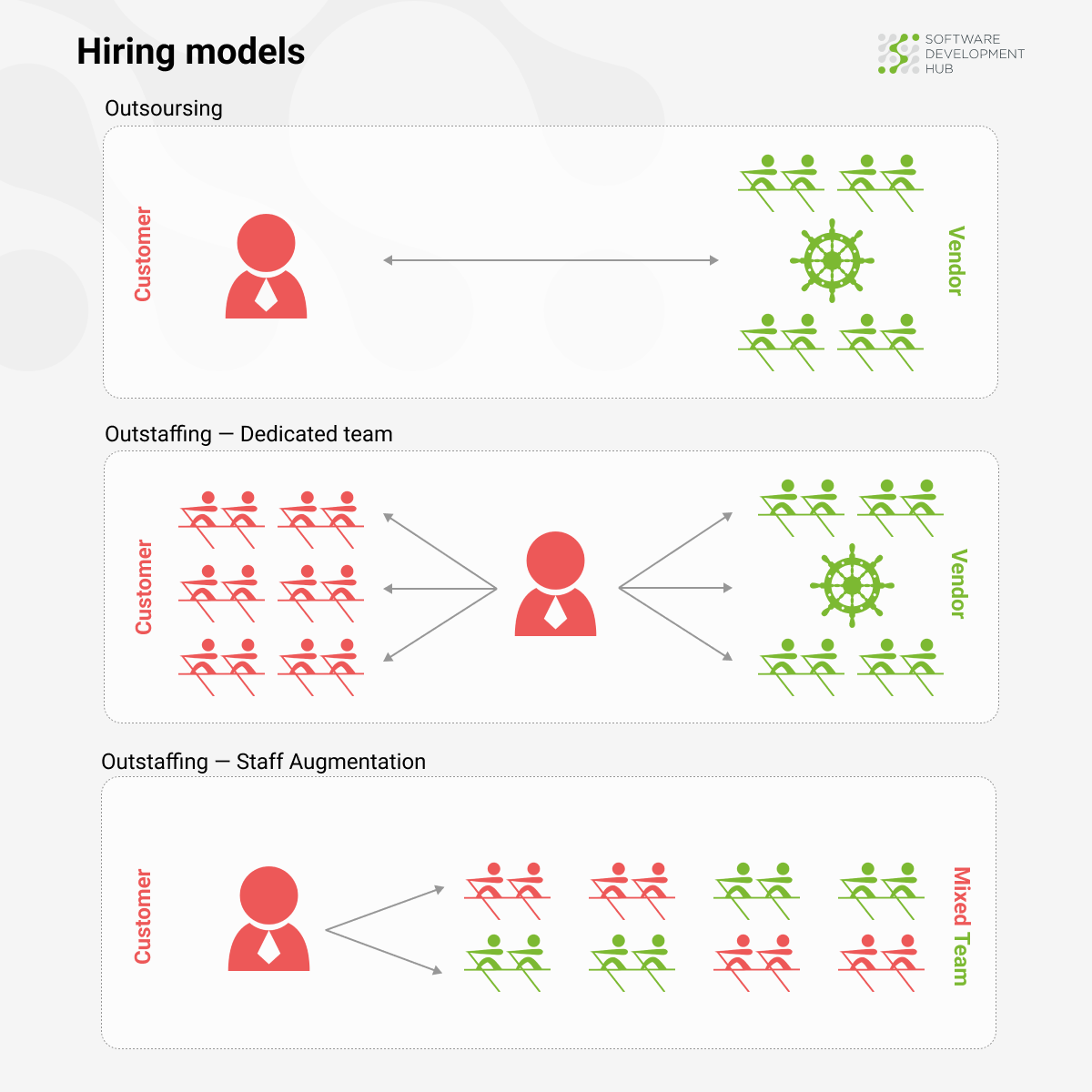 Reduced time costs
By choosing an outsourcing service provider to bring your project to life, you can save a lot of time. You won't have to supervise your employees, train them, and take up valuable time that they can spend working in their main area. 
When you go to an outsourcing company with any request, it gives you the opportunity to fully delegate. Their team will include both regular developers and managers, as well as supervisors who will oversee the project's progress to get quality results.
Effective development of the projects
IT companies that offer outsourcing services have worked on multiple projects and know how to offer high-quality solutions. Experienced experts work perfectly in teams and can handle any project very effectively with collective efforts. It means that no matter how difficult the task is, thanks to the experience and understanding of each other, the outsourcing team can quickly cope with any challenges.
Read also: How to Find Investments for Healthcare and Digital Health Startups
Pitfalls to avoid when outsourcing
Despite all the benefits of outsourcing for startup companies, it is important to be aware of all possible pitfalls in this matter. This way you will definitely not join the percentage of startups that fail with their idea.
Ultra-low price for services
All beginning people in businesstend to look for service providers at the lowest possible price. But despite the desire to save money, you need to evaluate the cost of your project reasonably. For a low price, you are more likely to get poor quality service and a product that amateurs made..
To avoid overpaying twice, paying an average cost on the market and getting quality service is better. Always remember that professionals value themselves and their time, and therefore will not work on a low-paid project.
Not paying attention to customers' feedbacks
In searching for the appropriate outsourcing service provider, you should pay attention to the feedback from their clients. It is even better if you are able to contact them personally and get an honest opinion. This way you will be able to decide whether you will work with this company or not.
It's also worth mentioning that even if you choose one of the top and most expensive outsourcing companies, it does not guarantee that you will be satisfied with their service. Sometimes such companies may neglect customers due to their strong reputation. That's why it never hurts to gather reviews.
Different worldview of outsourcing team
In most cases, when people are looking for a partner for their projects, it's an online collaboration. That is, the team of the outsourcing provider can be located anywhere in the world. In that case, it's important to have a conversation with the team before you start to work, to see if you have the same vision for the project. It is also always worth considering language barriers and intercultural differences.
Neglecting data security
If you have already found the right service provider, it's time to ask about data confidentiality. To protect yourself, you should sign an agreement with the outsourcing company that will oblige them to keep information about your startup and employees.
There are cases when the vendor offers to sign such a contract himself. But, you, as a buyer, can also go to the lawyers independently and then offer to sign an agreement.
Read also: What Hinders Startups' Development?
Outsourcing SDH for startups
Software Development Hub is one of the reliable companies that has extensive experience in working with startups. Even if you don't have a clear vision of your product or you have a limited budget — we can help you!
Our software development services for startups is not just about developing an application or a program. We assist the client on all stages of the project:
conduct an initial consultation to determine your wishes and analyze the market
prepare a presentation of the future project which will help you to attract investors
create an MVP to minimize risks and check whether the product will be in demand
work on the development of the project (including UI/UX design, testing and so on) and its scalability
Hurry up and schedule your first free consultation to start working with us for your successful startup!
Categories
Development for Startups
Startups
Development
Share
Need a project estimate?
Drop us a line, and we provide you with a qualified consultation.