IT Outsourcing vs. Outstaffing
IT outsourcing and IT outstaffing are two different business models used in the technology industry. The key difference between these two is the relationship that is established between the two companies involved.
With digital transformation and the increasing number of applications, solutions, and IT services provided, the IT outsourcing segment has grown steadily over the past few years and is expected to grow even more in the coming years. According to Gartner estimates, the volume of the IT outsourcing market in the world will be 1.39 trillion USD, and according to IDC — 1.17 trillion USD in 2023.
What is the difference between outsourcing and outstaffing? While outsourcing is a broader term that involves transferring overall control to the vendor, outstaffing is a narrower term that involves hiring external professionals to work under the client's direction while still enjoying the benefits and support of an external staffing service.
IT outsourcing
IT outsourcing is the practice of delegating IT operations and technology resources to an external service provider. In other words, when an organization or business contracts a service provider to perform a set of services or manage their IT infrastructure, this is called IT outsourcing. In this case, the contracted company takes over the entire IT responsibility and is accountable for delivering the outcome. The outsourcing company is responsible for managing the engagement, including contracts, service delivery, and quality.
Outsourcing involves outsourcing a specific business function or process to a third-party vendor who takes on the responsibility of managing and executing the function on behalf of the client. In this model, the vendor has a greater degree of management control, and the client typically has minimal involvement in the day-to-day operations of the outsourced function.
IT outstaffing
IT outstaffing is a practice where a company hires a dedicated team of experts known as dedicated developers, either full-time or part-time, for their software development projects. In this case, the development team becomes a part of the business, and the business has full control over the team. The company is fully responsible for the success of the project, and the outstaffing team is focused solely on implementing the instructions and following the project goals.
Outstaffing, on the other hand, involves hiring individual professionals as external employees to work remotely or in the client's office. The client retains control over the professional's role and responsibilities, and the outstaffing company serves as a facilitator and takes care of legal and administrative tasks such as payroll, taxes, and benefits. 
In summary, IT outsourcing is generally seen as handing over full responsibility of project delivery to a third-party service provider, whereas IT outstaffing normally refers to the hiring of an individual or team to augment a company's internal development department.
What are the major types of outsourcing?
Location-based outsourcing 
The key difference between these location-based types of outsourcing is the physical location of the service provider and the impact it has on communication, costs, and culture.
Location-based types of outsourcing: 
Onsite Outsourcing 
Onshore Outsourcing
Offshore Outsourcing
Nearshore Outsourcing
Multisource Outsourcing
Onsite outsourcing refers to hiring a team of external experts to work onsite, within the same geographical location as the company. 
Onshore outsourcing involves outsourcing work to a third-party service provider located within the same country as the hiring company. 
Offshore outsourcing refers to outsourcing work to a third-party service provider located in a different country, with a significant time zone difference. 
Nearshore outsourcing is similar to offshore outsourcing, but the third-party service provider is located in a neighboring country or a country within the same time zone. 
Multisource outsourcing involves outsourcing work to multiple service providers located across different geographical locations, such as onshore and offshore providers.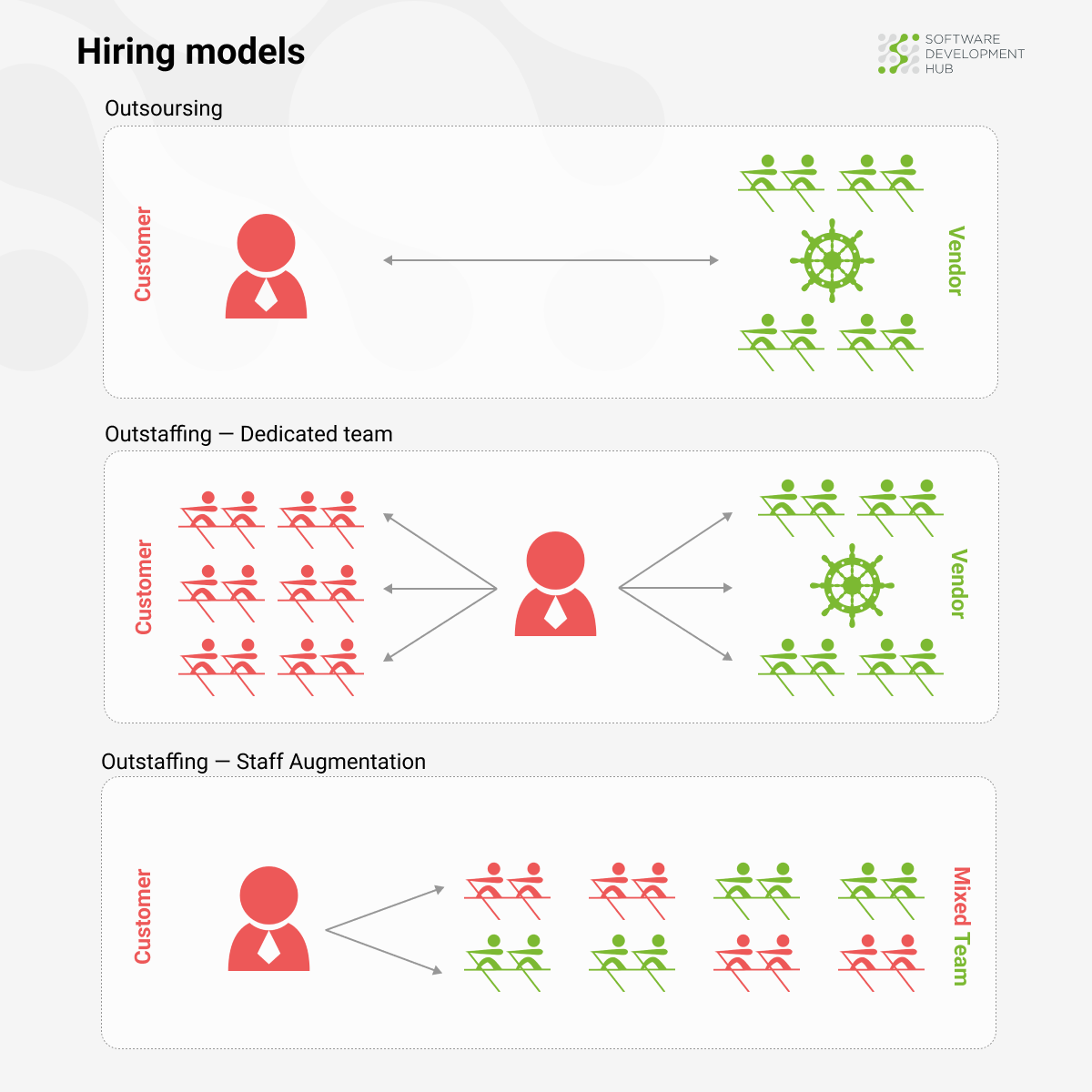 Relationship-based IT outsourcing
The main difference between relationship-based IT outsourcing models, namely dedicated team, staff augmentation, and managed project model, lies in the level of control and responsibility that the client retains over the project. 
Relationship-based IT outsourcing models: 
Dedicated team
Staff augmentation
Project-based model
Dedicated team. In a dedicated team model, the outsourcing vendor is responsible for assembling a team of skilled IT professionals according to the client's requirements. The team is fully dedicated to the client, working exclusively on their project, and is managed by the client. This model gives the client full control over the project, including project management, direction, and decision-making. The dedicated team can replace the entire staff of developers or work side-by-side with the internal department, provided there is a clear delineation of responsibilities. The management remains on the vendor's side.
Staff augmentation model. In a staff augmentation model, the outsourcing vendor provides additional IT resources to the client, usually for a specific project or a short-term need. The client retains control over the project but has less control over the outsourced staff, who are managed by the vendor.
Project-based model. In a managed project or a project-based model, the outsourcing vendor takes on the management and responsibility of the entire project. The vendor is responsible for assembling a team, setting up infrastructure, developing the project, and managing the team. The client has minimal control over the project and is primarily concerned with project outcomes, deliverables, and milestones. 
In summary, the main difference between these models is the degree of control and responsibility that the client retains over the project, with the Dedicated team model providing the greatest level of control and the managed project model providing the least.
Read also: IT Outsourcing in Ukraine and Wartime
| | | | |
| --- | --- | --- | --- |
| _ | Staff augmentation | Outstaffing | Dedicated team | Outstaffing | Project-based | Outsourcing |
| Suitable for | Highly flexible projects | Any project with clearly defined requirements | Full project outsourcing |
| Project duration | Short-term | Long-term | Long-term |
| Recruiting | Recruited by Vendor | Recruited by Vendor | Ready-to-go |
| Project management  | Customer | Shared/Vendor  | Vendor |
| Engagement | Full-time | Full/part-time | Full/part-time |
| Overhead cost | Customer | Shared | Vendor |
| Communication | Direct | via Vendor's PM | Direct/via Vendor's PM |
| Team structure | Client's in-house employers + Vendor's employers | Vendor's employers | Vendor's employers |
| Cost | Low | High | High |
| Client involvement | High | Minimum to no | Low |
| Control | High | Minimum to no | Low |
| Flexibility  | High | Medium | Low |
| Team scaling  | High | Medium | Low |
| Responsibility | Customer | Shared | Vendor |
Outstaffing vs. Outsourcing 
An outsourcing provider usually works on a project-based business model which means more likely the client entrusts the outsourcing company the whole project from A to Z. Clients rarely have access to the development team. Those people who complete all the work on the project usually work on several projects at a time.
| | | | |
| --- | --- | --- | --- |
| Outsourcing pros | Outsourcing cons | Outstaffing pros | Outstaffing cons |
| 100% responsibility on the developer's side | Poor quality of the final product is possible | Customer control the quality of a product | 100% responsibility for a result is on a customer |
| (Almost) no management work | Less control | High control | Additional management efforts |
| _ | Higher costs than with outstaffing | Lower costs than with outsourcing | _ |
As to outstaffing, the difference is that this service means that your software development service provider is responsible for hiring and maintenance of a software development team which is fully at the client's disposal. Basically, you hire your own remote employees who are a part of your in-house team. This remote software development team can be managed either by your in-house people or you can have remote managers.
There is a fine line between outstaffing or outsourcing your project requirements and then allocating a dedicated team to work on your tasks. Here's what they both entail:
Dedicated teams are multidisciplinary remote teams that resemble your in-house team but don't work on-site. Dedicated teams are built of all the possible developers, architects, engineers, and analysts you'll need to bring your projects to fruition. They work with you for the long term, reporting every daily activity to you and keeping you in the loop.
Project-based outstaffing or outsourcing is for those who want to augment or rather hire an entire team for only a certain project and then terminate the contract. This model leverages more freedom to the client as they get to have a team that works for them for certain projects and can then be rehired if ever the need be.
Software development outsourcing company
Software outsourcing takes place when companies choose to have custom software solutions developed by a third party. It also has many advantages including cost reduction, improved efficiency, mitigated risk, and enhanced security. To hire the outsourcing or project-based outstaffing team, ask SDH. 
SDH provides a complete cycle of custom web and mobile app development for outsourcing: business analysis, UX/Ui design, software architecture, project management, front- and backend, QA engineering, DevOps, and ML and AI services. Since 2014, we have gained deep expertise in building efficient health tech, e-accounting, travel, and education software solutions. Across the US, EU, and MENA markets, we have a solid background in helping startups transform into feature-rich products and empowering businesses.
Our clients that we're serving as an IT outsourcing vendor:
First cloud medical information system in Ukraine with 9M+ patients and 37K+ physicians on board and 15% nationwide coverage.
All-in-one ERP platform with integrated CRM, field service, and accounting for the US security and low voltage industries.
AI-driven gamified learning management system with 257K+ students in the US.
UAE's best-performing EHR & practice management system for dental clinics.
SaaS platform for travel advisers raised 11M investments in the A-series.
#1 radiology platform in Ukraine for a remote description of magnetic resonance imaging, computed tomography, X-rays, and mammography.
Outsourcing your project to a software development company will cost you around $25-$45 per hour. Ask for a free consultation to get a tech estimate for your project!
Conclusion
Because of the ever-growing demand for IT products and services that can be outsourced, the IT outsourcing market continues to grow.
FAQ
Will IT outsourcing continue to grow?
Yes, the IT outsourcing market continues to grow.
Several factors contribute to this:
- the ever-growing demand for IT products and services that can be outsourced;
- globalization processes and a lower threshold for outsourcing these products and services to companies outside the customer's countries. 
By outsourcing IT tasks (such as IT vendors and software developers), businesses are able to focus on their core business functions. 
Another reason is the opportunity to save on internal costs (e.g., overhead, office maintenance, utilities). In this way, outsourcing teams become a viable cost-cutting strategy when companies seek savings more than ever.


Is outsourcing labor from foreign countries legal? 
While there are no laws that ban outsourcing, some federal laws take a more indirect approach to limiting the number jobs that can be given to foreign nationals.
Why IT outsourcing is good?
Outsourcing of software development and IT services can help leverage knowledge and skills along with the company's complete supply chain. Using IT outsourcing, business is more flexible and agile, able to adapt to changing market conditions and challenges while providing cost savings and service level improvements. In general, IT outsourcing is good though its:
Cost-effective
Improved efficiency
Better uses of resources
Focus on running your business
Advantages of outsourcing
Control it costs
Reduce risk
Can IT outsourcing be used for risk transference? 
IT outsourcing can be utilized for risk transference in the following way: if a company wants to concentrate on its main business, then it can outsource its secondary operations to other companies. For example, if a company is focused on manufacturing then it can outsource its information technologies, digital issues, and security aspects to other companies.
Categories
Share
Need a project estimate?
Drop us a line, and we provide you with a qualified consultation.