CTO as a Service (CaaS) - Finding the Right Team to Create a Product
2023-07-31
230
Contrary to popular belief, the service of a technical director does not provide significant savings when compared with paying for a full-time full-time service station position. The advantages of cooperation with hiring a technical director are beyond the financial component. Why you should use the service of a technical director, we will consider below.
In the current realities, founders are increasingly moving away from the startup model, in which the product is developed by an internal team. Successful products come from a partnership between an outside tech (usually the founder of an early-stage startup) and a development company. When workflows for remote work have already been established, it is not necessary to talk about lower efficiency from attracting third-party teams and specialists.
What is CaaS?
CaaS literally stands for "CTO as a Service" and is used to identify an external consultant or company that actually performs the duties of a full-time CTO. What attracts the job option? An experienced specialist is ready to share his expertise in business scaling and technical management with the team. Essentially, CTO is a rebranding between a web/mobile development company and clients.
Although relatively new, the CaaS collaboration model is becoming increasingly popular. Startup and enterprise owners are aware of the cost-effectiveness of this format. Being aware of knowledge and skills  necessary for the position of chief technical officer, companies themselves can choose a candidate with the desired level of expertise and experience, involvement and duration of the contract. Using the CTO service means delegating to the competent management issues of implementing technologies, creating and managing internal teams, as well as making strategic decisions.
Practice proves that CTO as a service is ideal for ambitious startups that want to benefit from having top technology management behind them. You no longer have to wait months looking for the perfect candidate, giving away shares, paying upfront fees to recruitment agencies, and entering into long-term contracts while companies are just learning their way to the market. Larger players can benefit from an external view of their current systems and future development roadmap using the services of a CTO on a pay-as-you-go model.
Read also: Outsourcing Development for Startups: Main Reasons & Pitfalls to Avoid
What is the difference between an in-house CTO and CaaS?
Generally, the duties of a full-time CTO and CaaS are identical. In both cases, specialists are required to provide support to the project at all stages of software development and in solving various kinds of technical issues, whether it is creating a software architecture or formulating a strategy, drawing up a project's technical stack or optimizing a workflow to the highest standards.
While the duties are similar, there are still some differences. First of all, this is a team assembled by a hired technical director, or to be more precise, the combined experience of all team members and a set of qualities that make it universal. The past involvement of specialists in the work of products from various industries makes their experience and expertise a real synergistic asset that attracts development companies.
Why should startups consider service stations as a service model?
A small budget and  lack of understanding of the tools that are needed to develop a startup impose restrictions on the staff of the team. Regarding this fact, it is beneficial to collaborate with third-party teams and specialists who will oversee the process of creating a digital product from the concept stage to presentation on the market.
Of course, a successful launch of a product without involvement of external teams, solely by a founder, is possible, but this is more an exception than a pattern. In order for the software to prove its competitiveness and viability, you need to invest finances with an understanding of the result it will produce. Not all startups succeed without experts' assistance. In particular, the support of the CTO is especially important during the R&D phase of the MVP, when meeting market demands is being achieved.
Thus, CaaS involves working with a company according to the Agile methodology. A team that has extensive experience in launching, scaling, and deploying mobile applications will help solve the technical aspects. In this way, you will be able to make the company's activities more efficient and profitable through actions aimed at eliminating risks and optimizing the consumption of budget funds.
An analysis of the work of startups in the past few years shows that the CTO - both third-party and in-house - fulfills its duties, providing effective management for the smooth operation of the company and the provision of relevant services to customers.
If to evaluate CaaS in terms of cost, it turns out that using the services of a third-party CTO results into considerable costs. As a rule, this is due to the need to pay for the work of not only service stations, but also developers, designers, and business analysts. But looking at the immediate and long-term perspectives, you can see that such an infusion of funds will bring much more benefits - both for scaling the business and increasing profits.
Read also: IT Outsourcing vs. Outstaffing
Chief Technical Officer (CTO) as a Service in SDH
What features are required for the CTO as a service model?
Great technical experience. Expertise in this area and many years of experience in working with various projects and technologies give the technical director an understanding of problems that may arise during the development process and how to solve them. Therefore, teams keep abreast of the latest trends and constantly expand their ownership of the technical stack, mastering new technologies.
Working for a company with a similar activity or related industry will be a competitive advantage for the CTO.
Experience in managing multiple areas of software development. Being responsible for the technical side of the development, CTOs are also an important intermediary in communication with other external specialists and the internal team.
Leadership traits. A technical director is a mandatory person in the management team who contributes to the development of a healthy microclimate in the team. At the same time, the experience with similar products may be less compared to yours, but authority, and the ability to positively influence the team and build teamwork level out this fact.
Strategic thinking. The technical director, by virtue of his duties, is interested not only in the results of the work but also in viewing the work of the company in whole.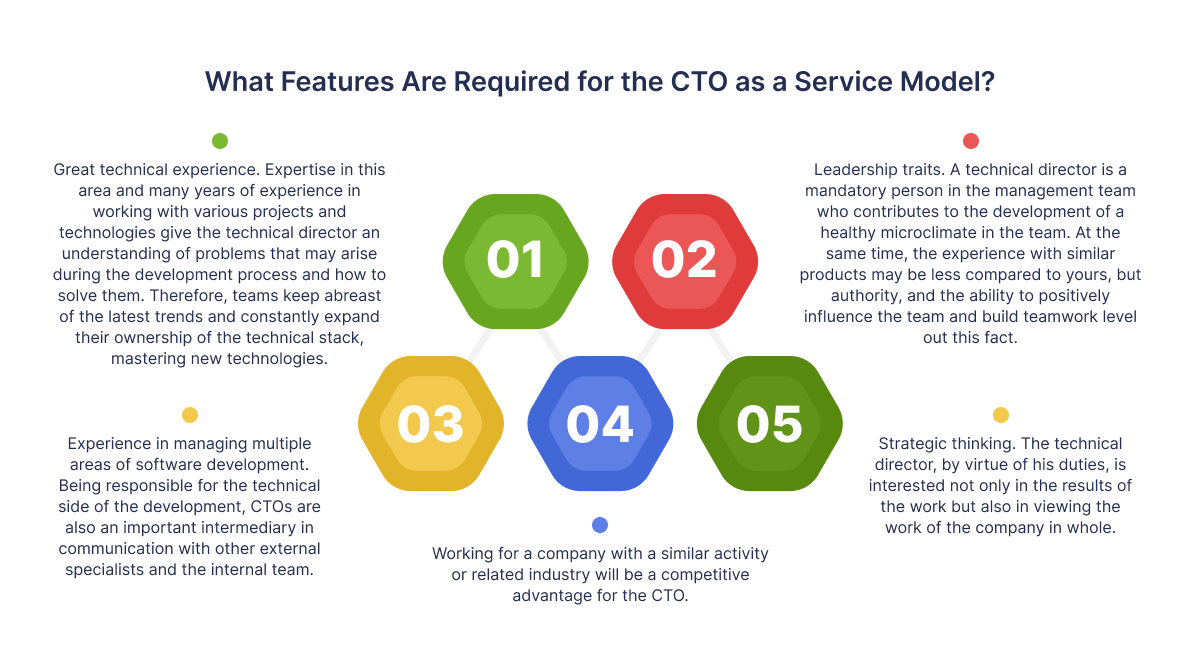 The Software Development Hub is ready to provide CTO services for the development of your startup, ensuring that the specialist meets the requirements listed above. Why do clients choose us?
Your costs pay off more than effectively. You do not need to cover bonuses and holidays. You pay only for the duration of the actual cooperation stipulated in the contract.
Flexibility of conditions. When contacting SDH, you can choose one of the cooperation formats, which implies a certain level of CTO involvement in the work process.
Prompt access to services, which is much more profitable than waiting six to ten months to look for a new full-time CTO.
Versatility. The vast expertise of specialists in a wide range of industries (accounting, healthcare, etc.) guarantees the success of the product we will work on.
Great practical experience of our employees in solving problems that arise during the development process.
A high level of competence, and professionalism, available now for your team.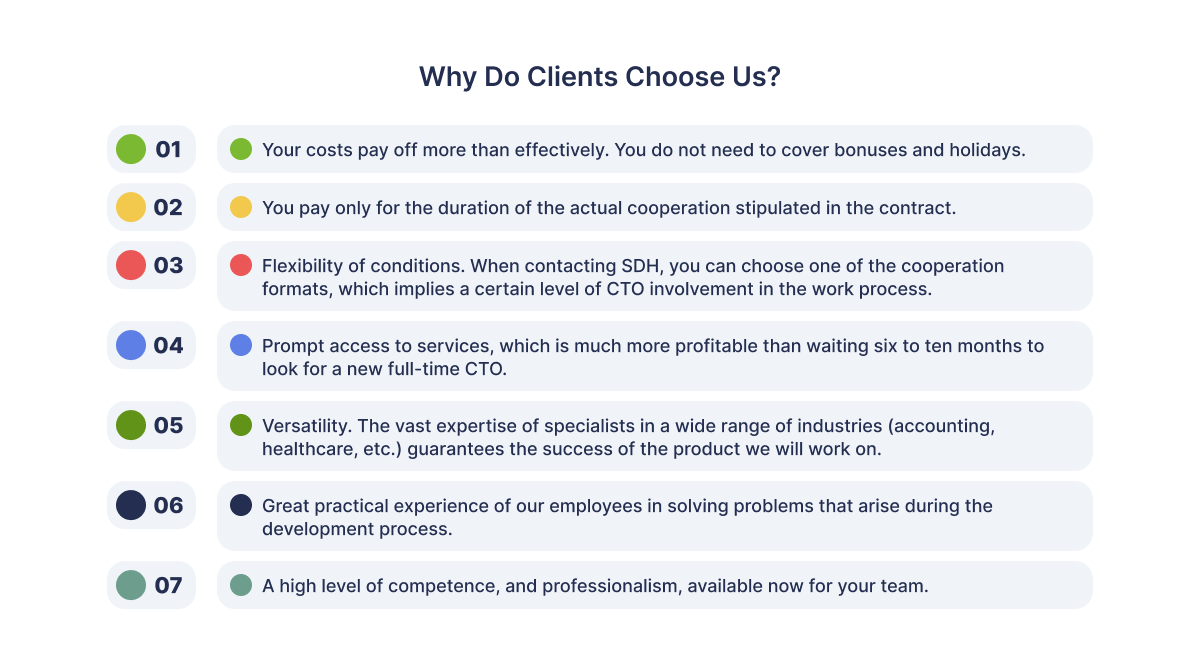 To achieve success, trust the development of a startup to experts - SDH.
Discuss your project
Keeping up with evolving technology trends and practices, we create cutting-edge software solutions.
CaaS CTO as a Service
Discuss your project
Keeping up with evolving technology trends and practices, we create cutting-edge software solutions.