Key Steps to Improve Cybersecurity in Healthcare
When referring to cybercrime, many of us imagine illegal activities in the areas of finance, banking security, etc. But criminal actions against our personal data in the healthcare sector are no less dangerous: the risks are not only associated with the possibility of illegal use of information, but also with the lack of timely access of medical staff to them due to violated confidentiality. Below, we will discuss the problem areas of cybersecurity in healthcare, as well as effective steps to protect personal information.
What is cybersecurity in healthcare? 
Cybersecurity in health care combines an array of information technologies through which protection against leaks and encroachments in the health care system is provided. These are electronic medical records,  devices for monitoring the patient's health,  medical equipment, programs for providing medical care and service management. 
Ideally, cybersecurity in the healthcare system should prevent attacks and unauthorized access to data, its use and disclosure. In short, properly functioning cybersecurity protocols make it impossible for patient records to be shared or disclosed, endangering the user's life. The global pandemic became a catalyst for the massive digitalization of operational processes in the healthcare system. The multiple growth in the volume of data with electronic prescriptions and medical records, as well as many other aspects, increased the load on the system, and therefore the issue of cybersecurity became even more vital. 
Cybersecurity issues in the healthcare system: statistics and key aspects 
Statista forecasts point to the growing cost of healthcare cybersecurity up to $345.4 billion by 2026. For comparison, that figure in 2017 was 10 times less  and made $34 billion. This speaks to a multifold increase in investment in cybersecurity due to the increase in the number of risks and their consequences for the industry. For example, in 2020, 17% of cyber attacks resulted in serious injuries and damage to the physical and psychological state of patients, and almost every third fraud disrupted the work of emergency services. 
Investments into cybersecurity reduced the number of such incidents by 8% in the period from January to February  in 2022, but the scale of crimes is staggering — in that very period 2.5 million people were affected by cyber attacks, resulting in a loss of $ 25 billion in funds.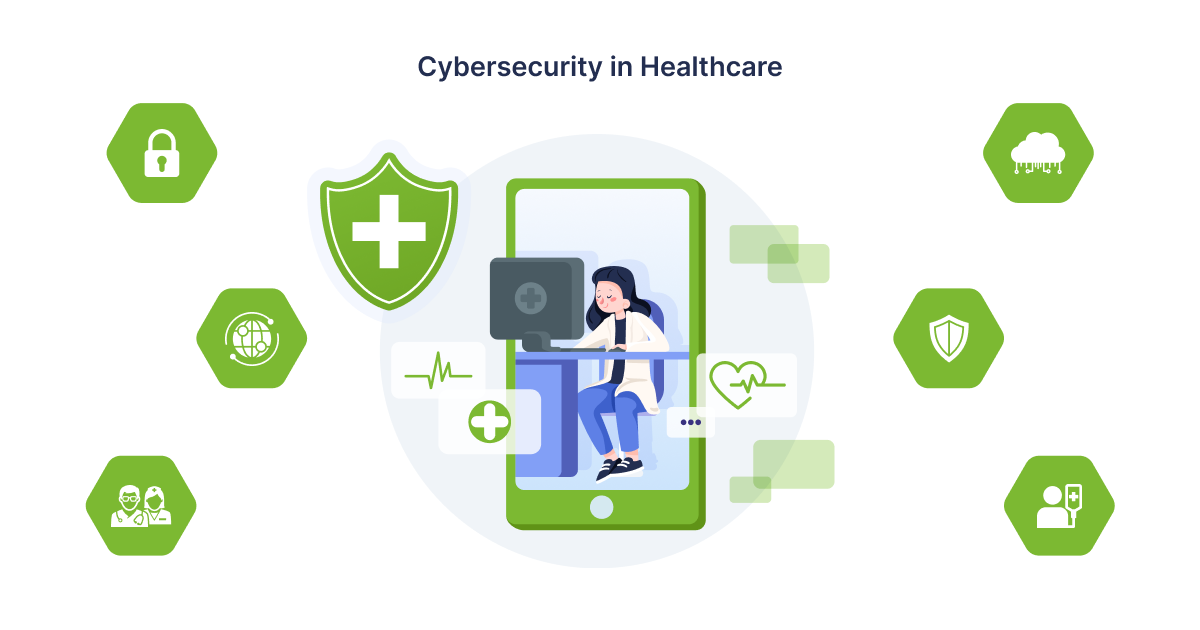 About the problems of cybersecurity in the healthcare system 
Today, cybercrime in the health care sector in most cases is aimed at obtaining money through extortion. The activity of intruders may be associated with disruption of the work of organizations, compromise of institutions and individuals. Attacks on supply chains are carried out in order to disrupt the functioning of companies. 
This is where the public's conviction arises that the state structures are unable to provide adequate protection against cybercrime, let alone working ahead of the curve. As a result, more than half of patients who use the healthcare system do not trust it to protect sensitive data. Under such conditions, private companies can only build a "line of defense" against cyber attacks on their own, without relying on government mechanisms. 
What parts of the health care system are targeted by fraudsters and lead to weakened protection? 
Digital patient records. Information about a person is transmitted, stored and processed electronically, which, given the many entry points, puts the data at risk.
The need to quickly respond to the actions of a hacker, including extortion, since attacks often directly affect human health.
Extortion in 4 out of 5 cases of cybercrime in healthcare. 
Treating patients as a priority for the system. 
What types of attacks are most often used by the attackers?
Phishing mailing of malicious links and attachments in emails that infect the network when the email is opened; 
Identity theft up to gaining physical access to a computer; 
Attacks on weak spots in the network. This includes address resolution protocol cache poisoning, https spoofing, and other crimes; 
Financial extortion through data encryption, blocking access to the clinical system, paralysis of clinical equipment; 
Attacks on the Internet of Things - connected technological devices that are used to perform various procedures. 
Why do there threats occur? The reason for easy penetration of intruders into the system is the insufficient budget for protection, the insufficient level of security technologies, and simple ignoring of risks by the administration. 
Read also: Cloud Computing in Healthcare: Benefits, Use Cases and Challenges
How to improve cyber security: 6 steps 
To strengthen data protection in healthcare and provide an effective barrier between data and criminals, the following actions are needed: 
Comply digital products with the standards of security, transmission, storage, exchange and work with medical data in the healthcare industry. 
Activate basic blocking and elimination steps. These are patch management, password protection, and access control, without which enhanced cybersecurity tools do not work.
Segment networks. Isolating sensitive information will make it much more difficult for attackers to access it. Segmentation strategy is to deploy firewalls, routers, VLANs. 
Update up-to-date tools, which allows timely detection of threats.
Train staff on what to do when they encounter suspicious activity. Employees should be trained in algorithms for detecting phishing emails, avoiding referrals, etc. To do this, they use educational videos, hold regular thematic events, etc. 
Use tools that not only protect against attacks, but also improve system performance. This is secure messaging, single sign-on as a way to control, etc.
Integrate  security tools, which often requires the involvement of an IT contractor. 
Healthcare Cyber Security Consulting 
Contact Software Development Hub for advice on custom medical software development. Our experts will select the best approach to development, taking into account the wishes and business objectives of the client, and implement the idea at the highest level. We also ensure product compliance with regulatory standards such as HIPAA, HL7, CDA, CCD, QRDA, DICOM, NwHIN, and other regulatory standards for medical communication.
Categories
Cybersecurity in Healthcare
Healthcare
Cybersecurity
Share
Need a project estimate?
Drop us a line, and we provide you with a qualified consultation.