20 Ideas for Mobile Applications to Earn Tons of Money in 2023
2023-01-26
621
The segment of mobile devices in the market is rapidly growing, and the tendency is still increasing. At the same time, in conditions of severe competition it is becoming more and more difficult to generate fresh ideas in the field of software products development. Below we will tell you how to come up with ideas for mobile applications, we will also outline the promising areas for work.
Investments to mobile applications startups analytics
The total value of companies involved in the field of impact technologies is more than 2 trillion dollars. Despite a slight reduction in capital as of 2022, the situation stabilized due to the entry of public companies into the ecosystem. In 2021, 68 billion dollars were attracted, in 2022 the amount grew up to 35 billion dollars.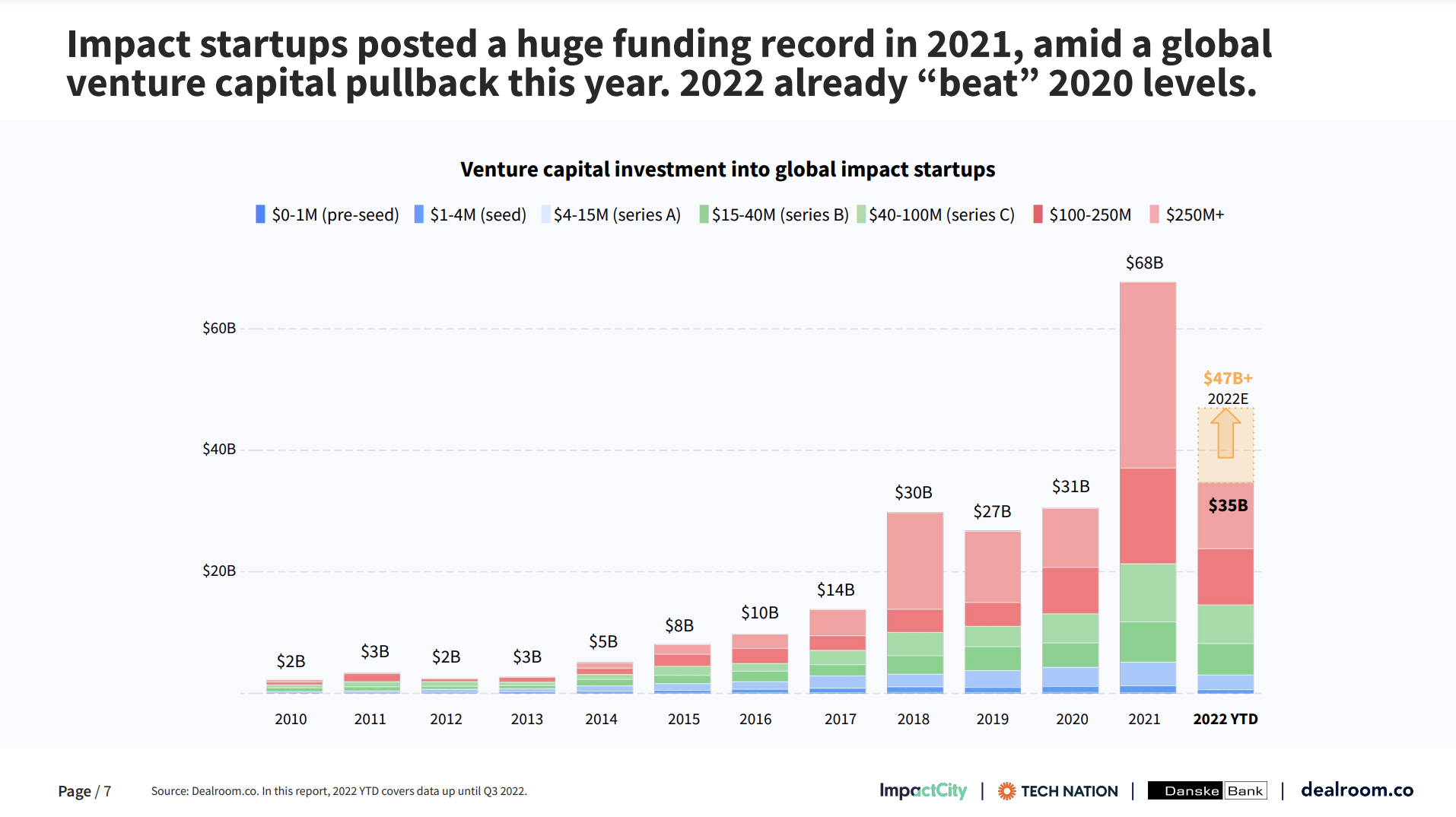 Source: dealroom.co
The largest volumes of impact financing in the general pool of venture investment are in European countries making up to 18%. The United States share is 8% of the total volume, the countries of the Asian region have 4%. One tenth of the employees working in the field of mobile technologies are concentrated in the Netherlands. 
Special attention is drawn to investing into sustainable development. For example, the startups dedicated to combating climate change and generating clean energy have received 129 billion dollars in investments since 2017. The most attractive for investors are areas related to batteries for electric vehicles,  use of solar energy, etc. 
Read also: 6 European sustainability startups to watch
The sustainable development goals, which directly refer to people's needs, are underfunded, although there has been a significant increase in the popularity of startups. These are, in particular, the directions "Life under water" and "Decent work and economic growth". 
Ideas for mobile applications: how to create a startup
How to come up with a successful idea for mobile software development? 
Identify the problems you face in your business and search for applications to solve them. Evaluate each program's usefulness. If there are only few programs of that kind, this is the possible place for development of the idea and the product of your own.
It is sometimes easier to improve the existing idea, having identified something unique that your competitors fail to see.
Find the direction where it is difficult to apply innovative ideas. Look for possibility of IT solution to help decide the problem in this field.
Trace the latest trends in the sphere of mobile products development.
Get the feedback from users. You need to answer the questions on which applications are useful for the audience, how happy the clients feel about them, which programs they would like to have.
Take some ideas from popular applications in the global market, adapting them to the needs of our audience if necessary.
Some ideas for mobile applications development
A Tinder-type application for board games with games collected to spend nights according to interests.
Graphic restaurant booking with possibility to identify the location of the table.
An offer for students' group work before the scheduled examination, including the study tools. 
An Uber-type flowers and gifts delivery.
An application for daily running finances.
An application for managing subscriptions in the telephone. The user monitors applications s/he signed up easily and without any stress or fear to miss the time for signing off, etc.
An application for loans managing.  Lenders can use the information about the amount expected to be received, payment terms, etc. 
A program that searches for application to provide melody, or a part of the text.
A product for taxes calculation and automated calculation of liabilities.
Wedding arrangement with detailed planning of each task and instructions.
A solution for financial expenses controlling. The application would assist to use money sufficiently and minimize expenses where it is possible.
Search for goods based on photo.
A trading platform for NFT.
A platform that allows to exchange adult content on the basis of subscription.
Programs for books search.
Programs with a to do list.
Applications, that allow to find tutors based on options and criteria.
Medical applications.
Mobile payment systems.
Artificial Intelligence for work with labor law.
Software Development Hub deals with creation of software, mobile applications, web technologies in the field of medicine, education, logistics, security, etc. The team of professionals will help realize your idea, providing expertise, possibility for scaling and adaptation to currently emerging and future challenges.
Discuss your project
Keeping up with evolving technology trends and practices, we create cutting-edge software solutions.
startup startups
Discuss your project
Keeping up with evolving technology trends and practices, we create cutting-edge software solutions.