Database Development
Experience the power of custom database solutions. We turn legacy systems, Excel spreadsheets, and innovative ideas into robust, scalable, and easy-to-use databases for businesses.
Get in touch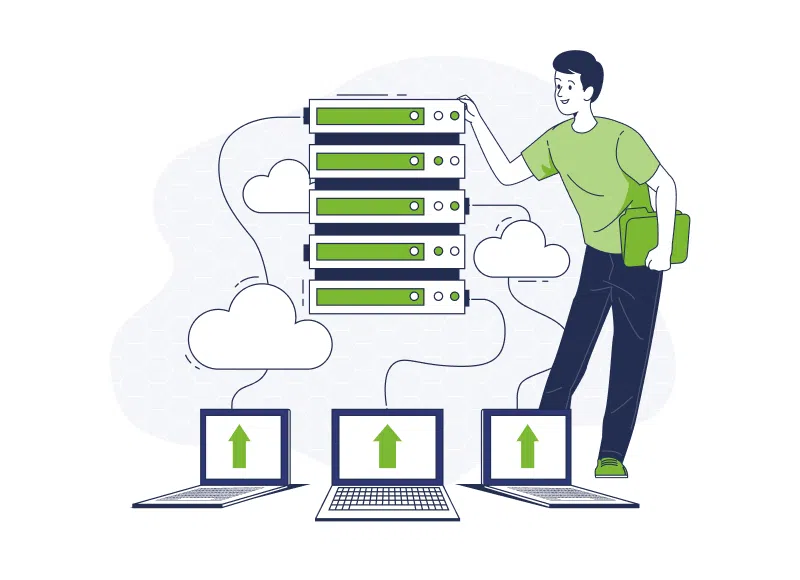 SDH focuses on database development, catering to the data storage needs of both large and small companies.
Your reliable software development partner
Do you want a robust and scalable database solution tailored to your business needs?
Are you looking to optimize data storage and retrieval processes for increased efficiency and performance?
Do you need a customized database system that can adapt to your evolving business requirements?
Data-driven success starts here. SDH database development services turn information into insights, empowering you to make informed decisions.
CUSTOM DATABASE DEVELOPMENT
Custom database development allows organizations to create bespoke databases that integrate seamlessly with existing workflows and enhance data management. Our scalable solutions favor business growth and evolving demands while maintaining performance.
DATABASE CONSULTING
Database consulting for managing, optimizing, and maintaining databases. Our consultants help select the proper database solution, design efficient data models, enhance performance, migrate data seamlessly, and ensure robust security measures and compliance with data protection regulations.
DATABASE MODERNIZATION
Database modernization to improve access, query response times, and user experience for employees and customers by enhancing database performance, reliability, and security. Our skilled developers revise the schema to handle increasing data volumes and complexity.
DATABASE MIGRATION
Database migration is critical in scenarios like system upgrades, mergers and acquisitions, and cloud transitions. It aids in improving data quality, ensuring business continuity through backups and redundancies, supporting organizational restructuring, and maintaining compliance. Ultimately, data migration enhances system performance and efficiency.
Get an estimate for your project now!
Scalable database solutions we build
Standards we shape
In-depth expertise
Keeping abreast of evolving technology trends and practices allow us to create cutting-edge software solutions.
Tech-strong team
Our professionals onboard exchange their expertise, share corporate values and follow clients' business goals.
Bespoke solutions
Prior to transforming the client's business needs into ROI-driven custom software, we provide in-depth analysis.
Full-cycle development
Complete coverage from business analysis to end-to-end product delivery and further support.
Scalability and growth
We identify the project's growth options at the early stage and scale the software wisely throughout its development.
Direct contractor
SDH does not hire freelance contractors, you interact with the team directly to avoid extra costs and disrupted communication.
Technologies
AWS
S3, DynamoDB, RDS, DocumentDB, Lambda, EC2, Elasticache, AmazonMQ, Amazon MSK, Amazon EKS
Brokers
Kafka, Redis, RabbitMQ
Industries we serve
We guide businesses to the industry's top accepting the competition challenges.
Healthcare
GIS
Travel
Education
Logistics
Accounting
E-commerce
Field Services
Cooperation models
Dedicated Team
This model guarantees a fixed budget for your software development project, regardless of time and expense. The main advantage of a fixed-price model is that it allows you to plan and set an exact budget for your project.
160 Hours of Part & Full Time
Predictable Monthly Budget
Fixed Cost & Flex Scope
This model guarantees a fixed budget for your software development project, regardless of time and expense. The main advantage of a fixed-price model is that it allows you to plan and set an exact budget for your project.
Predefined Budget & Terms
Time & Materials
If your project is undefined and needs ongoing work, you can ask for hourly engagement. It is also known as a pay-as-you-go hour-wise rolling contract.
Requirement-Based Working Hours
Pay Only for Measurable Work
FAQ
Database development involves designing, creating, and maintaining structured sets of data that can be easily accessed, managed, and updated. These databases serve as the foundation for various software applications, helping organizations store, retrieve, and manipulate data efficiently.
The cost of developing a database depends on factors like complexity, size, features, and technology used. It's best to request a customized quote for an accurate estimate.
The time required for database development varies based on complexity and requirements. Simple databases can be built in a few weeks, while complex, large-scale databases may take several months or more.
Need a project estimate?
Drop us a line, and we provide you with a qualified consultation.