Partner's objective
Develop a service for selecting fashion looks based on customer surveys in the luxury segment. The questionnaire should collect the most complete information about the client: photo, age, figure parameters, preferences by brand and style. Based on this data and the store's assortment, stylists select individual sets of clothes, shoes, and accessories.
SDH solution
We have analyzed business processes in fashion retail and identified opportunities for solving the customer's performance goals. We have created the concept of a system for interaction between a client, a stylist, and a store manager. The system includes: web-interface for the stylist, which provides to receive requests for look creation, quickly select the necessary goods from the catalog, as well as make a digital collage with no third-party graphics programs; mobile iOS app for the client with an interactive gamified questionnaire, according to results the сlient receives from the stylist a selection of individual clothing sets with the possibility of further purchase.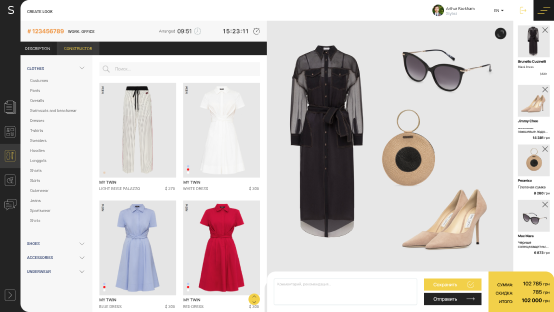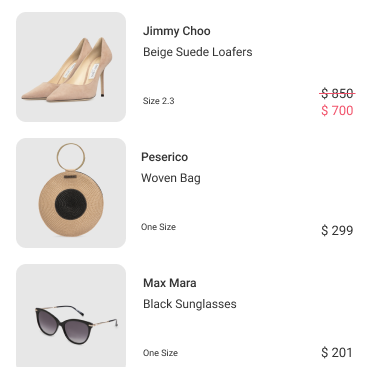 Technologies:
Web: Python, ReactJS, PostgreSQL.
Mobile: Swift, Google Firebase, Facebook SDK
Features and Results
Push notifications.
The push-message module helps to inform about upcoming events and keep in touch with the user.
Interactive questionnaire..
An interactive questionnaire with gamified elements keeps the user, and visual presentation of questions through images and animations makes questions as clear as possible.
Convenient app.
The native mobile application is the most convenient tool for Client-Stylist interaction as it is always at hand and enables to quickly upload and send photos and samples of looks.
Single electronic customer base.
The information obtained through the survey gets into the unified electronic customer database, helps analyze customer behavior and form appropriate offers.
All-in-one solution.
A complete set of stylist tools to create sets of clothes without the need to use additional services: built-in reference books on styles, collections, sizes and brands, digital collages constructor.
Integration with the online store.
The developed API allows stylists to receive lists of product units that match the specified parameters and price.
benefits
advanced search
time-saving solution
NEED A PROJECT ESTIMATE?
Drop us a line and we provide you with a qualified consultation.