White Label Software Development
2023-07-20
212
The practice of creating software products with their subsequent resale to another company and renaming is called White Label. This business format is common in retail trade, where goods produced by large companies are sold in stores under the labels of these retail chains. The White Label business model extends to essentials and digital technologies - cloud services, programs, etc. To find out the peculiarity of the White Label and how it works, read below.
What is White Label?
White Label software is a fully customizable product that the owner company can rename and use, and resell under its own brand. The sale is carried out as part of a subscription since the rights to use and customize are transferred by the developer to the company - for a limited time or forever. The importance of front-end development services cannot be overestimated: a user-friendly, friendly interface provides an easy user experience, which is realized even in improving website performance.
When buying White Label software, customers can add branding elements, as well as present the product as their own. Thus, by purchasing software, an agency can buy and resell the software to its clients.
The value of White Label software development services
White Label for software means almost the same as for business in other areas. For example, the product will be used under the brand not of the manufacturer, but of its client. For software development, White Label practice is of great importance, in particular, when it comes to large projects. The use of third-party services in cases when the client cannot offer expertise and experience saves time and meets a strict deadline.
Talking about the cost,  it comprises the budget for the White Label software and a surcharge for the client.
How does White Label software development work?
Why is it worth using White Label Software Business Model? It saves time and effort for you as a customer service company. So, instead of wasting time on studying and working out areas unfamiliar to you, you simply delegate the implementation of this segment of work to another company. You can sell the resulting product under your brand, making a profitable margin. Time and labor resources on your part are saved, and profit is received.
White-Label software development companies also save valuable time by taking part in the creation of large projects for a reasonable fee, they also gain experience and expand their portfolio and client base.
Some aspects of White Label Software Development
White Label software development services are unlimited: they include creation of websites, web applications, enterprise software platforms, mobile applications, cloud services, and desktop solutions. What should be considered when working with a White Label business model?
End-to-end solutions that can be immediately sold and used are created;
The software is ready for customization and integration with major platforms and technologies;
Applications are hosted on behalf of clients on specialized servers;
Performance characteristics are constantly analyzed, supported, and maintained;
Guarantees of safety and reliability are provided.
How to Use White Label Software Development Services
The ways in which White Label products can be used are also unlimited, but three of them are the most common:
internal use for communication, collaboration, and connection with employees to customize the appearance to synchronize with brands. 
Possibility of training on the software website, which is integrated with the company website;
resale or joint sale of software solutions. Encouraging the purchase of services among your customers will work to generate income through commissions.
Supplyers of White Label Software employ recognized technologies: AI ML, Big Data, Java, PHP, etc.
Read also: 10 Web Development Trends in 2023
Benefits of White Label
What are the advantages of White Label practice?
Fast integration without using client's resources;
Opportunity to create your own brand, increase awareness and connect with suppliers to provide further services, increase brand value;
Scaling income when reselling a product due to a set margin;
Expanding the range of services, maintaining presence in the market, and prompt response to market challenges thst enhance the competitiveness of your company;
Increasing the cost of offers. Using the White Label service, you get rid of the need to hire additional specialists, overloading the staff and extracting resources from the workflow;
Saving time. White Label is a lot of hours and involvement of a human resource that you can save by using the services of experts in a particular direction;
Reducing the risks associated with the probability of not investing within the agreed time frame or selling the product contrary to what the client expects. The product is commercially tested, which reduces the risk of failure to zero;
Experience and professionalism of experts for your products;
Benefit for large enterprises by promoting the product under their own name;
Distribution of the product on the market makes you more recognizable, reduces development costs, and attracts investments;
There is no need to disclose information about the business model of this product, which means that you can manage the functionality of the software and its capabilities;
The ability to focus on the values of your business and develop them.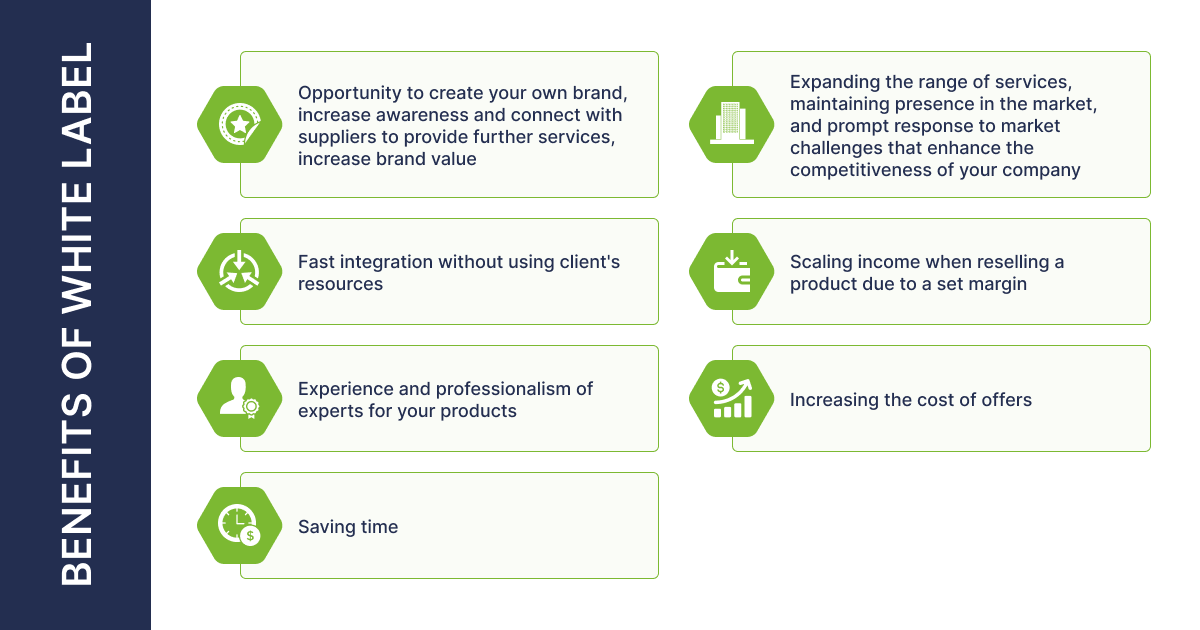 Choosing a White Label Software Development Partner
Software Development Hub offers White Label software development services. A team of specialists will take on the task of implementing a specific segment of work or the entire project for further resale and use under your brand. We will provide advice on how your product meets the needs of the market and offer an implementation option. The reputation and experience of our company guarantee that we cope with projects of any complexity and scale. The work on the project starts after signing a contract and within the framework specified in it. Maintenance of White Label software is also included in the range of the company's services.
Discuss your project
Keeping up with evolving technology trends and practices, we create cutting-edge software solutions.
White Label White Label Software
Discuss your project
Keeping up with evolving technology trends and practices, we create cutting-edge software solutions.