What is Custom Software Development?
2022-10-25
737
The use of software completes a number of company tasks in the field of automation of operations, communication, management, process optimization, provision of its own product / services. Ready-made software will be the easiest solution for an audience with related needs. At the same time, you sometimes need specialized software, created in accordance with the unique needs of a particular customer. Custom programs increase the productivity of the company, but in most cases involve much higher development and labor costs. In this article, we will help owners and top managers decide whether your company really needs custom software.
What is the difference between custom software and commercial off-the shelf (COTS)?
Custom software development is the process of creating and refining an existing solution to achieve specific goals. Special software allows you to meet specific user requirements, and its effectiveness is considered higher in comparison with the finished product (COTS). At the same time, COTS meets more requirements and therefore, suits a wider audience. The distribution and sale of ready-made software is organozed in such a way that in the future, when buying it, it might be integrated into business applications. 
At the same time, there are always companies and businesses that require special solutions, since commercial software does not fully solve the tasks. These are, for example, CRM systems out of the box, ready-made e-commerce solutions, educational portals with modular courses for students, etc. Such software products require resources for implementation and adaptation to the business processes of a certain company. 
COTS, which theoretically each player in his niche can use, are characterized by the following features: 
Ease of use, explained by a wide range of target audiences having similar problems. The most striking example is Microsoft Word, a program for working with text documents. Its application is possible in any organization, regardless of the scope and scale of activity; 
Ease of access or purchase. Such software is easily downloaded from sites, they can be paid for by subscription from a cloud service or simply be bought in a store; 
Availability on all PC platforms – Windows, Mac, Linux;
The ability to customize the software according to your needs. 
Special software is, first of all, unique features and functions. After all, an application or program is aimed at solving the problems of a particular organization or structure. At the same time, competitors will not have access to your software, and only you will be able to use the original, useful product. 
In what aspects can one trace the difference between commercial off-the-shelf and custom software? 
Implementation of the program. Although coding is becoming more and more flexible, in addition to writing code, a custom software developer focuses on requirements gathering, UI/UX design, testing, and updating. The implementation of all these requires the involvement of  qualified and experienced resources.  This often results in errors that the customer will encounter, and those errors will have to be eliminated at the cost of their own time and efficiency. The buyer of the ready-made software has already used the experience of others' failures during extensive testing stage, which eliminates the possibility of  his own failures. 
Integration. Since analytics remains the most important marker of competitiveness, it is a mistake to forget the need for full integration of software with other enterprise-level systems. It is not always possible to integrate ready-made programs without any problems. Due to this fact, raising funds for the development of special software that is easily integrated into the structure of other programs is justified. 
Scalability is the deciding factor. With existing business development prospects, customers choose those solutions that can be enriched with new functions and capabilities in the future. It is possible to implement this on the basis of individual software. 
Updates. Thus, COTS is updated periodically, but not always the frequency of updates meets your needs and the capabilities of the company. Working with special software, the user can make updates at any time and add the desired functions..
Ito sum up, ordering special software is justified when it is necessary to satisfy specific business requests regarding functionality, scalability and upgradability. 
Advantages of custom software
Individual solutions for the needs of  organization. By purchasing a custom program or an application, you can be sure that the product will allow you to perform specific business operations, and, accordingly, increase productivity; 
Safety. This is the basic advantage of special software: after all, the value of a program that is easy to break tends to zero; 
Free use and control. You can use the software and update it according to your wishes and necessity of control.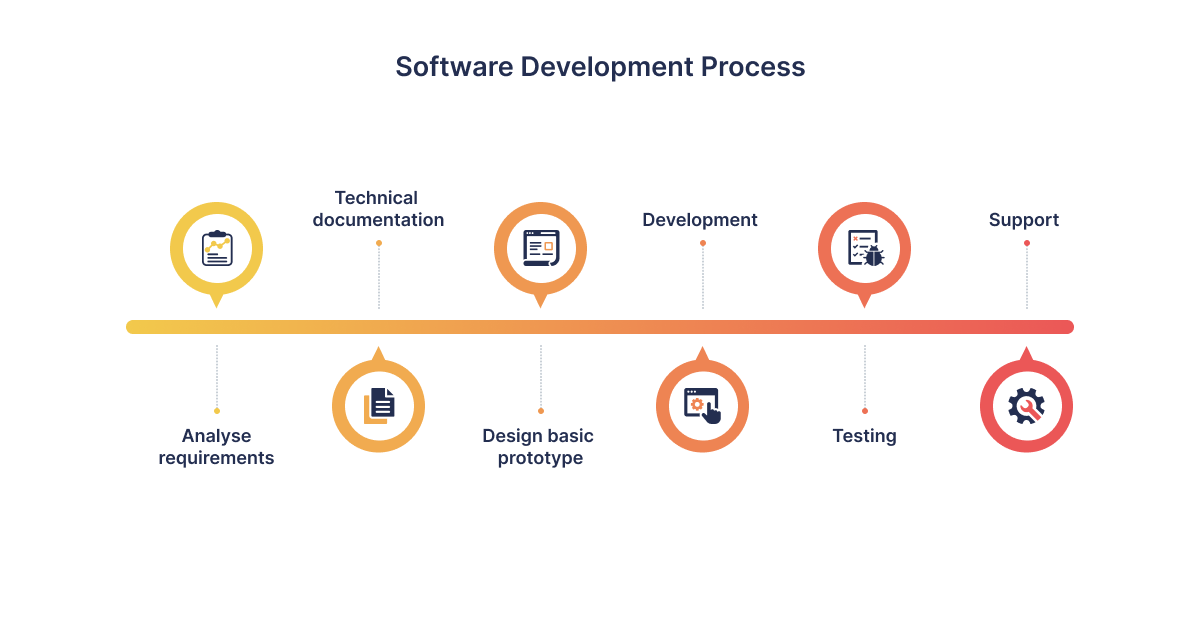 What are disadvantages of custom software products?
High cost of creating software. As a matter of fact? The ready-made software are cheaper in the market, as the prices are regulated by the rivalry. At the same time, in most cases the price tag is justified;
Increased duration of the work on the project. It takes much time to analyze business needs and to define capabilities for meeting them or removing emerging issues, etc.;
A risk to encounter unverified performer.  Actually, this problem is not specific and is typical for all spheres of human activity. But the likelihood of contacting the "wrong" developer in the IT field is especially high for those who do not often deal with computer technology.  
| Advantages of Custom Software | Disadvantages of Custom Software |
| --- | --- |
| Tailored to specific business needs and processes | Higher initial cost of development |
| Increased efficiency and productivity | Longer development time compared to off-the-shelf solutions |
| Enhanced flexibility and scalability | Need for ongoing maintenance and support |
| Improved security and data protection | Potential for errors or bugs during development |
| Competitive advantage through unique features | Difficulty in finding skilled developers |
| Integration with existing systems | Dependency on specific vendor or technology |
| Ownership and control of the software | Risk of project scope creep |
| Ability to update and modify features as business needs change | Limited third-party integration compared to off-the-shelf solutions |
| No need to pay for unnecessary features | Limited community support compared to off-the-shelf solutions |
| Possibility to generate new revenue streams | Uncertainty about the future of the technology or vendor |
Does my company need custom software? 
Of course, custom application development services can  be provided by IT specialists within your company. Though the temptation to rely on one's own is great, the statistics testify in favor of outsourcing companies. SDH will help you develop the concept and implement the idea of a custom application. Why should you choose us? 
Huge expertise in the implementation of large-scale, system projects for businesses of various niches..
Team focus on results. 
Openness to new offers 
Constant support of the client.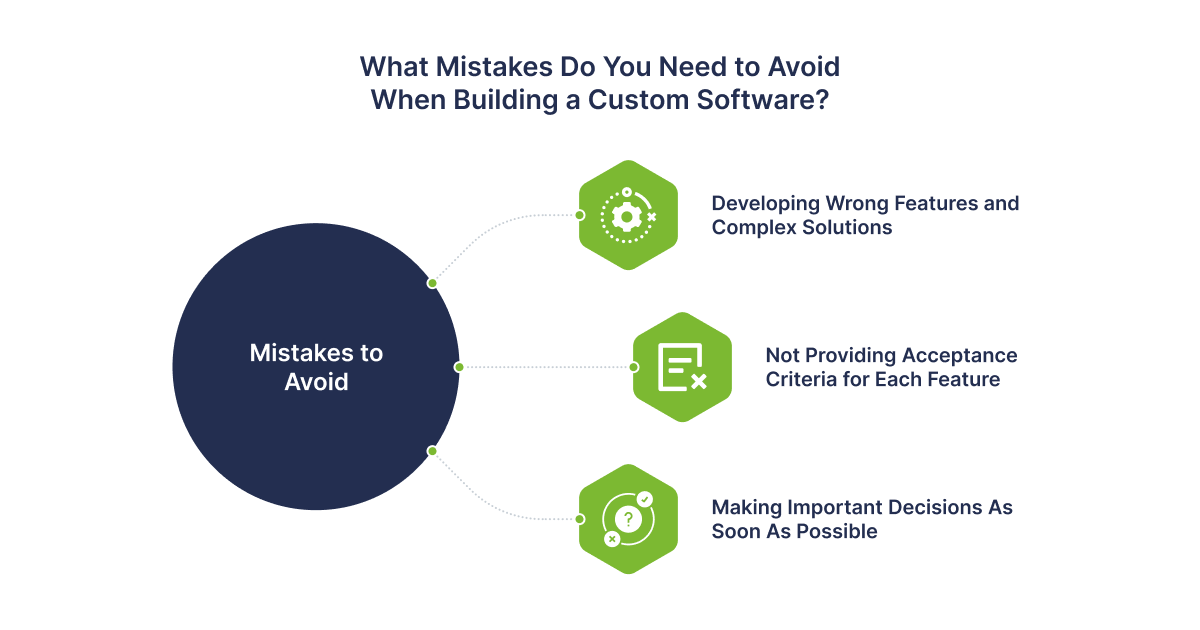 We praise the customer's initiative and are guided by the approved schedule when creating software. 
Software Development Hub is a team of like-minded people with extensive experience in software development, web and mobile engineering, custom enterprise software development. We create meaningful products, adhering to the business goals of the client. Main areas of development: digital health, accounting, education.
Discuss your project
Keeping up with evolving technology trends and practices, we create cutting-edge software solutions.
software development
Discuss your project
Keeping up with evolving technology trends and practices, we create cutting-edge software solutions.