Case: IoT Smart Solutions for a Sustainable Future: Terneo Smart Thermostats
2022-09-13
1443
Energy is the most common area where IoT helps optimize consumption. Smart buildings that use IoT-enabled devices can adjust lighting, heating, and cooling systems based on residents' behaviour. It reduces carbon dioxide emissions by reducing the burning of fossil fuels for energy.
The main benefit of smart home IoT solutions is the ability to reduce energy and heating costs. Using sensors, metering devices and appliances included in a single IoT network, the smart home control system automatically maintains the optimal mode of energy and heat consumption in the rooms. For example, it informs you when the heating is left on and selects the appropriate mode to turn on the thermostats based on the time of day and the current tariffs.
Building maintenance represents 40% of energy consumption and 36% of greenhouse gas emissions in the EU, with heating taking up the largest share of energy consumption.
Of the more than 100 million heaters installed in European buildings today, 60% are obsolete, inefficient and urgently need replacement. 
Below is an example of an implemented project in which the Software Development Hub acted as a development company. It is Terneo, an intelligent ecosystem for controlling heating devices. With its help, users get the most out of energy efficiency by automating the heating system with intelligent modes.
Project Objectives
Smart thermostats are critical components of efficient heating systems. Successfully improving the efficiency of a heating system depends on whether all components are optimally connected and integrated.
Across the EU, governments are introducing environmental policies and incentives for homeowners supporting the smart thermostat trend. They are becoming increasingly popular despite rising energy prices.
Cash subsidies (Coup de Pouce in France (2020), Belgium's environmental vouchers or the SEEH scheme in the Netherlands (2019)).
Tax reduction subsidies (Ecobonus in Italy (2020), Steuerbonus in Germany (2020)).
Legal requirements (Building Regulation in the Netherlands (2012).
Green homes grant System in the UK with zero rates of VAT.
However, how can energy efficiency be achieved for a single home?
By modernizing home heating and cooling systems, energy savings and reductions in CO2 emissions are attainable.
A University of Salford study in 2021 shows that adding thermostats can save 10-12% energy without additional measures. Modern thermostats are fitted with intelligent controllers that reduce unnecessary consumption of resources.
By providing individual controls in each room with thermostats, homeowners save up to 19% more energy than no controls in the rooms.
Reducing the regulator temperature by 1°C saves up to 10% more energy. This step is simple and free, the user will not feel the difference in comfort.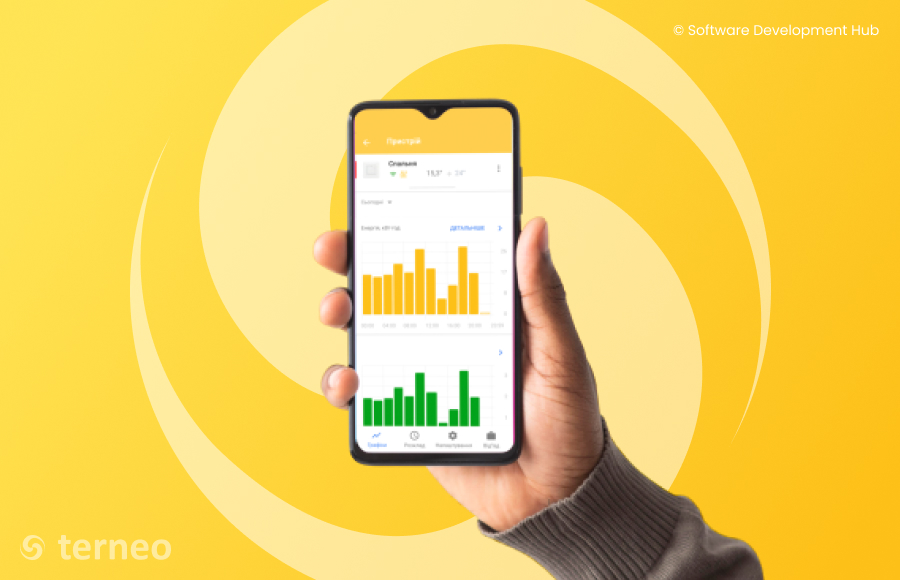 Terneo Implementation Case
In 2017, the thermostat manufacturer Terneo approached Software Development Hub with the need to create a product to control a wide range of heating devices remotely. The main objective was to create a unified ecosystem for connecting and managing thermostats via smartphones.
The system should enable users to remotely control Terneo thermostats, which regulate heating devices in the home (electric underfloor heating, convection heaters, radiators, etc.). 
The Terneo software solution includes a web interface and custom mobile applications for Android and iOS. The developed software product has a flexible microservice architecture and MQTT protocol implementation, which allows it to handle high loads during heating seasons smoothly.
Solution Features
The solution software saves information from all heating devices in databases in the cloud, where the user can also get comprehensive performance analytics.
Intuitive interface.
All devices connected to the program are marked with different colours. The device is indicated green in an energy-efficient mode and becomes yellow and orange in heating modes.
Setting heating conditions.
The user can add up to 16 heating scenarios for a given location per day, depending on the desired temperature at certain times of the day and night.
Heating schedule.
The user can schedule the heating to turn on and off at set times and days. Terneo heating systems will maintain the set temperature for the scheduled time.
Heating programs.
The app displays the dynamics of heating activity over the day, week, month, or year. This allows you to optimize your heating schedule by analyzing historical data.
Geofencing.
In early 2022, a geofencing feature was added to the app's functionality. This GPS-perimeter-based technology for heating automation via IFTTT allows users to interact with the system via GPS-enabled smartphones based on where they are. 
Benefits of the Software
Care. The product simplifies energy management, reduces bills and makes homes energy efficient. Radiators with thermostats connected to the system allow users to set different heating schedules in each room. It will provide up to 19% energy savings during the heating season.
Eco. Terneo calculates how long it takes to change the temperature in your home. Intelligent heating control in each room enhances the savings effect. It protects you from wasting energy and money on overheating the home. Eco mode can save up to 2% more energy. The system determines how well the building retains heat and maintains that mode on its own.
Comfort. Users control the heating system to turn on exactly on schedule to reach a set temperature to maximize comfort and efficiency.
Outside the home (geo-zone or "away mode"). Maintains a lower temperature while the user is away from home. This feature automatically sets values across all rooms when users are away from or close to the house. It can save up to 24% on energy bills. 
Statistics. Dashboards (reports) allow users to predict heating usage and costs, monitor energy savings budgets, and contribute to reducing their carbon footprint.
Integration. All devices are connected to the wi-fi network and can be monitored via smartphones.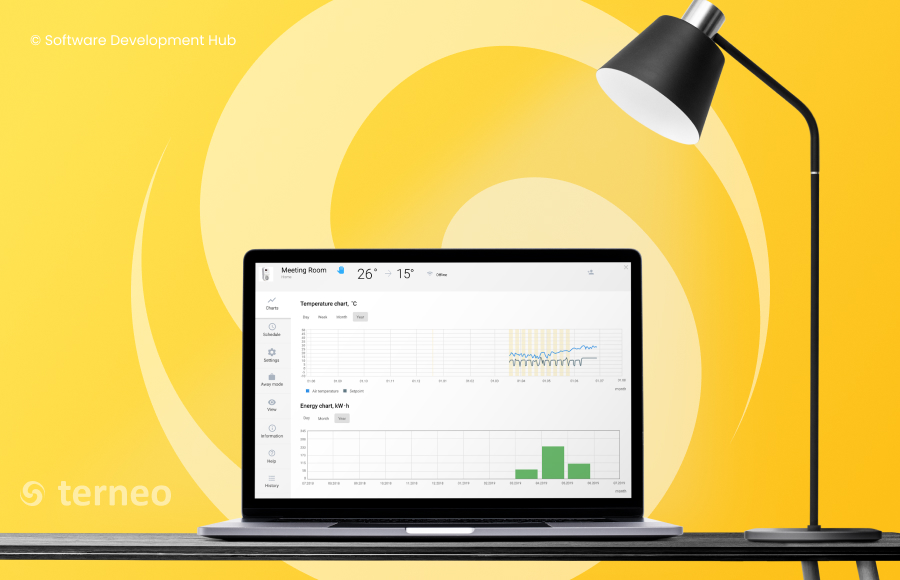 Today, more than 30,000 connected devices are in the ecosystem, and about 10,000 users use Terneo's mobile apps. The company is working to improve the product.
Software Development Hub provides software development services tailored to your business needs. With experience in IoT-based smart home and digital health projects, we offer expertise in creating custom IoT software, web and mobile applications. Get a technical consultation now!
Discuss your project
Keeping up with evolving technology trends and practices, we create cutting-edge software solutions.
Terneo IoT Sustainability
Discuss your project
Keeping up with evolving technology trends and practices, we create cutting-edge software solutions.