Why is Mobile Application Vital for Businesses?
2022-11-01
839
A functional application is not a privilege, but a basic business option. And it is not just about the world's largest companies like Starbucks or Amazon. Having their own software, small and medium enterprises get an excellent springboard for sales growth, development and scaling. Besides, if a few years ago it was enough to have a convenient site displayed on smartphones or tablets, today a mobile application is highly desirable to maintain competitive positions. Your software product is a digital marketing advantage for both a coffee shop and a children's playroom. In this article, we will explain why mobile app development is important.
Optimization of business processes
Many companies are resorting to creating their own mobile applications, especially applications for technical employees. As a rule, such solutions help optimize the performance of field employees (for example, installers, repairmen, couriers, etc.) in terms of automating and digitalizing their processes. Customers, orders, finances, routes, schedules, warehouses — any area of ​​​​activity can be placed "on a smartphone". Thus, small and medium businesses get rid of outdated notebooks and bulky disparate spreadsheets, minimize errors, reduce operating costs and security risks.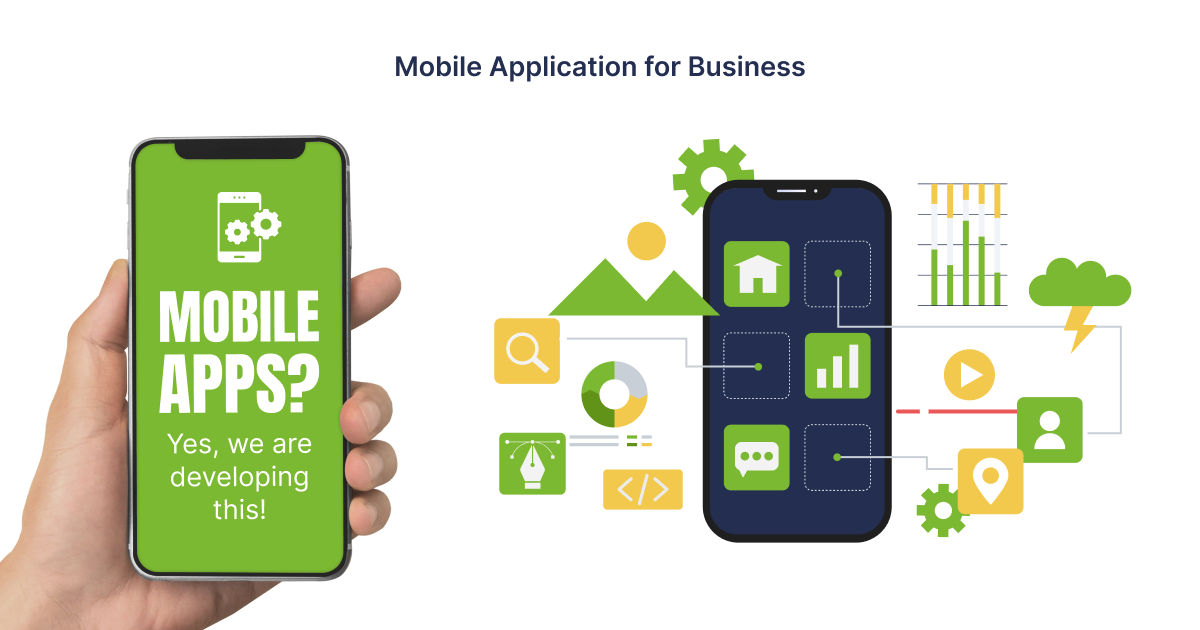 Increased visibility for your clients
Studies show that an average adult user spends about 4 hours on his/her smartphone daily. Probably,  only some applications are used actively and constantly. However, while looking for the right software, he/she cannot but see other applications in the search process, among which one might be yours. Thus, your brand is constantly in view, which means that you will not be forgotten.
Marketing tool 
Another reason why a mobile application is important for businesses is a wide range of branding opportunities. Software often has wide functionality, including search options, user accounts, instant messengers, news feeds, etc. If a user gets all the information about you at hand, why not take advantage of it and fill the client application with notifications about all kinds of promotions, offers, bonuses, etc.? Pop-up messages sometimes look intrusive, but they help increase website traffic and strengthen audience loyalty to the brand. 
Demonstrate values to your clients
Generally speaking, building a successful business is equal to building strong, trustful relationships with customers. iI is important both to constantly remind clients about yourself, and to accumulate bonuses on the client's user account, You should also outline your values, that correspond to things, important for your target audience. An effective approach was demonstrated by Starbucks, providing rewards to users who subscribe to the application through a mobile application.  Customers can pay for their coffee here, using bonuses, so they don't go to any other place for coffee.  Moreover, it is possible to pay for purchases with the application. The benefits of the software are obvious!
A tool for creating a recognizable brand
A client application will help make the company more recognizable. It should also be viewed as a communication channel that you control (as opposed to external channels). Recognition can be viewed from two angles: 
Pure brand promotion. Only you (and your developers) decide how to position the company, how to fill the application, and what functions to provide to customers. Thus, you create a brand with your own hands, and how the audience will see it depends only on you; 
Attraction. The more often the user looks at your application, the faster you can sell your service or product. In marketing, this phenomenon is called "effective frequency": according to statistics, after about 20 mentions or eye contacts with the logo/brand name, the client will really remember and be interested in you. Inform your audience about you in actionable ways by improving communication. 
Attract clients more effectively
The more channels and opportunities for customers to connect with the company, the better. A working application will be an additional platform for communication with the audience, and the sort of business you belong to does not matter here. You probably know that a certain percentage of people avoid phone calls if possible due to being busy or socially withdrawn. So give customers the opportunity to book a table in your restaurant online, through a mobile application. By doing this, you simplify the work of both the staff and those who your services or products are for. 
Possibility to stand out in a crowd of rivals
Many people have heard about the prospects of digitalization. And yet, not every small business player decides on their own application for technical staff or customers, justifying the refusal by the high cost of development, small scale of activity, etc. With a functional mobile application, you will definitely overtake your competitors and make life easier for your visitors/buyers. 
Increase brand loyalty
An individual lives in a vast information sphere: a lot of information is broadcast from electronic devices, banners, paper media, so we might stop noticing really important signals. In this context, it is time to return to truly sincere and trustful communication with customers. Of course, a mobile application is not a panacea from low sales and the dominance of competitors, but your software product will help you get closer to the audience. 
In conclusion: Why are mobile apps important for business?
| | |
| --- | --- |
| Reason | Explanation |
| Increased Reach and Accessibility | A mobile app can increase a business's reach and accessibility by allowing customers to interact with the company from anywhere, at any time, through their mobile devices. This leads to improved customer engagement and higher conversion rates. |
| Improved User Experience | A well-designed mobile app can provide a seamless and convenient user experience for customers, improving their overall satisfaction and likelihood to return. |
| Increased Sales and Revenue | By providing customers with easy access to products and services, a mobile app can drive sales and increase revenue. It also allows for new sales channels, such as in-app purchases and push notifications, to be utilized. |
| Better Customer Engagement and Loyalty | A mobile app allows businesses to communicate with their customers in real-time, improving engagement and building customer loyalty. Features such as push notifications, in-app messaging, and loyalty programs can help foster stronger relationships. |
| Data Collection and Insights | A mobile app can collect data on customer behavior and preferences, allowing businesses to gain valuable insights into their target market. This data can be used to inform future marketing and product development efforts, improving overall performance. |
| Competitive Advantage | In today's digital landscape, having a mobile app is increasingly becoming a necessity for businesses to stay competitive. It allows companies to differentiate themselves from competitors, meet customer demands, and provide a unique value proposition. |
Software Development Hub is a team of like-minded people with broad experience in software development, web and mobile engineering. We provide clients with a full comprehensive custom development cycle, including architecture planning, business analysis for clients, UI/UX design, quality control, project management and support.
Discuss your project
Keeping up with evolving technology trends and practices, we create cutting-edge software solutions.
mobile application
Discuss your project
Keeping up with evolving technology trends and practices, we create cutting-edge software solutions.