Partner's objective
To develop a travel mobile app for a reputable tour provider. The app should allow a user to browse and pick a place and vacation options to spend the desired holidays in any country across the globe with ease.
SDH solution
Our team created a neat application that allows travelers with different experiences and of all ages to choose a matchable tour or place to spend a vacation with no hassle. In the app, a user is prompted to set the necessary parameters to search for the desired vacation place or a tour package and form a unique list of holiday destinations. If the plans are not decided yet, a user can leave a custom request to the tour operator to see if there are any appealing offers.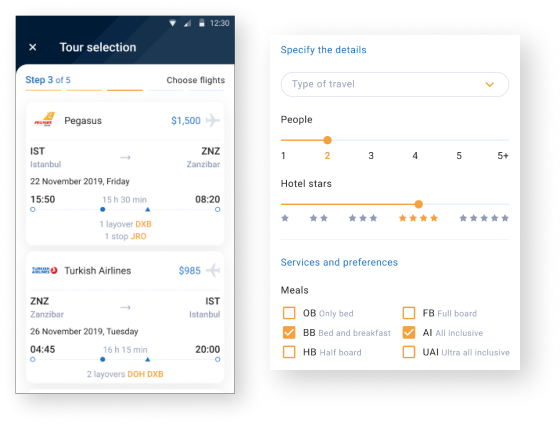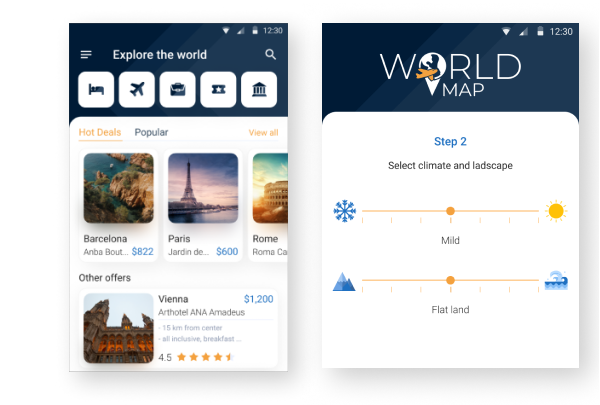 Technologies:
Java, Android SDK, Firebase.
Features and Results
Rewards programs.
The app operates a special loyalty program that awards financial bonuses to the intermediaries involved in each tour, flight, or hotel booking process.
In-app requests.
In case of a lack of time, absence of relevant offers or information, a user can leave a custom request with any questions to a tour provider right in the app.
Travel lists formation.
To keep the most appealing offers at hand, a user can create, save, and edit his/her own travel list of the desired destinations and tours.
Access to full information.
The tour provider provides full information about tours featured in the app, including descriptions and conditions of tours, vacation destinations, flights, and availability.
Hot Deals list.
There is a separate tab where a user can browse available hot deals and limited offers regarding tours including vacation destinations, hotels, flights, and transfers.
Advanced search.
After a quick registration, the app user can use a wide selection of filters to narrow the search results of the tours or holidays destination of interest.
benefits
advanced search
instant booking
time-saving solution
NEED A PROJECT ESTIMATE?
Drop us a line and we provide you with a qualified consultation.