Partner's objective
Create two apps for convenient food delivery service. Organize easy-to-use platforms for a courier and customer. Applications should be as easy to understand as possible and include instant location, a wide range of food establishments near and in the customer's city. Highlight the food search by category, the product map should be detailed.
SDH solution
We have analyzed mobile processes in the food delivery sphere and found out opportunities for improving user and courier experience. Our team has made two applications: to interact with the food customer and the courier. In the first case we've developed clear and minimalistic interface, account access system, location selection screen, product or dish search line and range of cuisine categories. The peculiarity is a detailed description of the item, which includes a photo, score, ingredients, weight, and price. Customer app also has basket for selected dishes and the ability to choose the method of payment. In the second case, we took into account the convenience for the courier, so we created the simplest possible system, which includes a list of tasks and their status,for instance, "delivered", "in process", "appointed", "new". We have also created a task card "appointed", which has a full description, address with the customer's geolocation and phone number.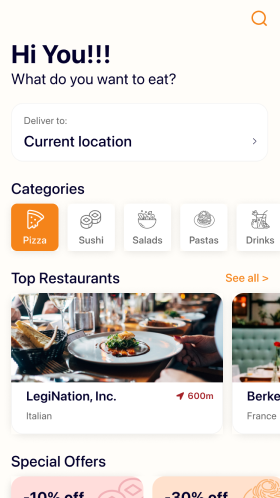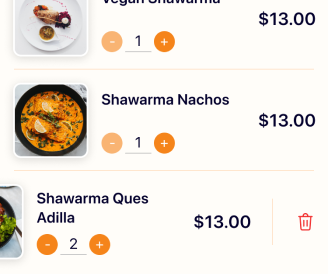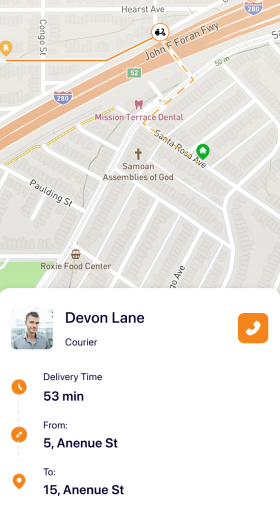 Technologies:
Java, Android SDK, Firebase, Swift, UIKit, CoreAnimation, Foundation, Alamofire, Kingfisher. Python, Django, Django REST Framework, JS, jQuery, HTML5, Elasticsearch, Google API (Google Places, Google Maps, Google Analytics), PostgreSQL, MongoDB, Redis, Celery.
Features and Results
Exact delivery time
The app displays the delivery time, as well as the address of the institution and the place of delivery.
Basket
Orders and payments are made through the basket, in which you can adjust the order: add or cancel.
Detailed description
When ordering a meal, the customer knows exactly all the details: ingredients, weight, appearance, rating, price.
Task statuses
The courier easily optimizes your workspace with in-app statuses: "delivered", "in process", "appointed", "new".
Geolocation determination
Both applications automatically take into account the user's current location, which details the search for information.
Integration with the city's restaurants
The application has integration with the menu and prices of local restaurants, grocery stores and different cuisine options.
Usability
Simple interface and order without an intermediary provides convenience to this format of delivery.
NEED A PROJECT ESTIMATE?
Drop us a line and we provide you with a qualified consultation.